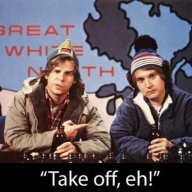 Joined

Mar 17, 2016
Messages

1,008
Reaction score

708
Okay. I don't know everything about NFL contracts, much less QB specific contracts. What I do know is that IMO, President Smith has given us enough of a sample size that I would have absolutely no problem at all signing an extension with him now. The distracting nature of that process aside, I would hope that it would not derail the season.
To celebrate my new COMPLETELY AWESOME avatar - seriously - check it out!, I pose the following questions:
Should we pay him now?
Should we pay him if/when we make the playoffs?
Should we pay him over the offseason?
And how much?
Ranking the top NFL Quarterback contracts and salaries in the NFL
I love the dude, obviously - BUT - is he worth 40MM+ a year? It's a tough pill to swallow - but I think so. From what I've seen. I said that we needed an 8 or 9 game sample before $$, and now we're there, with things just getting BETTER every week.
A month old article:
https://sports.mynorthwest.com/1678...eahawks-handle-possible-geno-smith-extension/
says a couple things.
"Huard thinks Smith needs to show the team a bit more before talks start, though. "Give me the rest of October and into early November. Then maybe make that phone call," he said."
Well, we're right there now. Further, he says:
So what does Huard think the Seahawks should pay Smith assuming he keeps up his high level of play?
"Two years, $30 million deal (with) $20 million guaranteed. Give Geno significant money, but do a deal where it doesn't hamper you from drafting somebody in the top 10 if there's someone that you love," he said.
I don't think that's enough, personally. I know it's probably out there - but sign the dude to 40MM+/big league contract. And get it done before he slips away. It would show alot of confidence in the ENTIRE SYSTEM THAT HAS FLOURISHED UNDER HIM. It would also boost everyone's confidence and stability. If you take a look at all the names on the overthecap.com site that are 40MM+, um, he's outplaying them.
FURTHER, how could a big money deal on him be any more of a risk than the Donks took on Team 3 - and now are wishing they hadn't. He fits our system. Everyone loves him. I say lock that MF up right now, or in the immediate future. We got what we need. Fine, draft someone next year to learn from him, but that's not even the point.
Sign Geno! And, oh ya, did I mention? Check out the new Avatar!
.
.
.
.
.
.
.
And, Geno for PREZ! That is all.