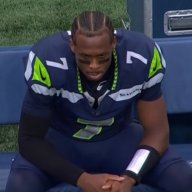 Joined

Jan 28, 2011
Messages

10,415
Reaction score

6,736
Location
Pete was sticking up for Geno and there is a reason when this situation comes up teams look to pass there 99 out of a hundred times

You claim everyone who disagrees with you on Wilson and/or Geno are biased and ignore things because of it. You seem to do why's same thing when any criticism is leveled at Geno…..he can do no wrong,
He's absolutely right, though. Pete is absolutely correct if you look closer at that defensive alignment and how the play developed. If not for a blown block on the second level, that's an 8 or 9 yard gain and we're 7-3. It wouldn't have even been a hard block. It was just a total error.