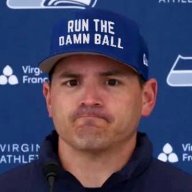 Administrator
Administrator
Moderator
Joined

Feb 23, 2007
Messages

18,210
Reaction score

5,542
Location
...an overly sensitive 12."

I spent a disgustingly embarrassing amount of time in front of the TV this past week taking this whole Munich Seahawks/Bucs pregame coverage thing in. I couldn't get enough. It legit felt like it was the week leading up to the Super Bowl and the Seahawks were in the big game. The sheer amount of Seahawks love and coverage for hours on end this past week was so dripping in over the top I surely thought I was having one long, fanciful dream.

From analysts to broadcasters to players to fans, the love shown this Cinderella Seahawks team was so beyond I was left speachless.

Yet, even with all of that collective love. With all of that Bandwagon Fervor, here I was tonight, watching Gameday Picks (not the real name of the show, I don't care to look it up) on NFL Network where three people sit around making their picks for each game this Sunday and what gets me all fired up like we've suddenly become the red-headed stepchild once again in the NFL?

Cynthia Frelund. The network's "analytical expert". She's a numbers gal and she's damn good at it. Smart as a whip, but I swear every time it's her turn to pick the Seahawks games she almost always picks against them. I've watched this network for years now and it's a real trend with her. So tonight when it was the Seahawks / Bucs segment, all three guys picked the Seahawks. Cool. Here's the funny part. I was watching with my girl and I said, "Oh, it's time for her to pick. She will pick against us. You watch."

Bingo.

The point of this thread is not to say I was right. The point of this thread is to try to figure out the psychological reason why I STILL give a flying crap what anyone says against my team, even when 98% are in agreement with my feelings? Why am I so damn sensitive? Is it because I have NFLPTSD from all those years I endured in the 1990's? Is it the derogatory and once ubiquitous term "SeaChickens" that still calls out into the recesses of my synapsis from time-to-time?

Even when nearly the entire world agrees with my take on the Seahawks do I give a rip what a few outliers have to say to the contrary?

"Hi my name is Aros and I am an overly sensitive 12."

Who's next?