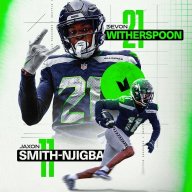 Joined

Mar 20, 2022
Messages

199
Reaction score

115
Divorces are always messy, but in the end with luck each is happier without the other.

Face it, RW just wanted to be elsewhere, all the rationalizations by both sides are just empty noise. I loved the player when he was drafted, was jazzed by his escapability, and arm talent, frustrated by his limitations and seeming inability to short pass or get rid of the ball when he should have just done so. His schtick was becoming tiresome though. He nevertheless was exciting to watch when he was on.

It was certainly not hard to see the divorce looming and their 'troubles' began with XLIX but became public with his last contract. To me RW spoke out of both sides of his mouth here, and still does as he has indicated he wants to get paid $50 Mil./yr. guaranteed by the Broncos. That will truly prejudice that team's ability to win just as his last contract hurt the Hawks despite their continuing ability to remain competitive.

He was my favourite player on the team until recently but he now isn't on my team. He can and will be replaced and the team will become stronger without him.
Thanks for posting this. I was going post something very similar!