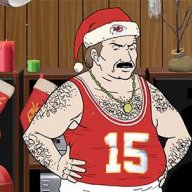 Joined

Mar 19, 2022
Messages

10
Reaction score

24
Hi. i'm new to your site here. I'm a Chiefs and MIZZOU fan from Kansas City. I spend alot of time at Orangehuddle.com...it's a Denver Broncos board.

I've been reading up on some of your thoughts here about Lock. Something that has come up a few times that I wanted to address here, is that some of you are mistakenly comparing Lock to Josh Allen. They are absolutely NOT the same guy. The argument for Lock being like Allen is similar build and skill set. Furthermore, Locks stats compare somewhat favorably to Allens during the same stage of development for both guys.

Here is why those comparisons are wrong.

When Josh Allen was finishing up college and was a prospect heading to his draft day in 2018, he had only been playing organized football for a short time. He was in a very small town, playing with a very limited set of other players and other teams. He went to a small JUCO with limited talent around him, limited coaching around him and limited competition. When he got to Wyoming, he was still very raw, still not surrounded by high end talent and was playing against competition that was also not all that great. Allen had not been exposed to high level coaching, had not been around high level players...and his stats reflected that. The whole premise around Allen coming out...was that he did have bad numbers, but his testing, arm, speed, brain....were all super awesome. The idea was that since he hadn't been playing high level football and had only played it for a relatively short amount of time...that there was immense potential to be tapped into once you got him pro coaching and surrounded him with NFL caliber athletes.

Taking that idea another step further....you have to also look at the Bills roster once Allen was drafted. It was BAD. The entire line he played with his rookie year, was OUT OF FOOTBALL in two years time or less for most. The were no notable skill positon players except LeSean McCoy, and by then he was a shadow of his former self. The Recievers were that started that year were also out of football in short order. Basically Allen came to a roster of garbage. It wasn't that much better his second year, and finally they had churned it enough his 3rd year that he had legit NFL players around him. So...he had ALOT of development and coaching that needed to happen AND he had to start that off with a bad roster.

So..to sum it up for Allen....super tools guy that didn't have much experience or good coaching, that had ALOT...A TON of room to grow if you could get him good coaching and better talent.

That is NOT the Same as Drew Lock....

Lock is the son of a guy who played O line at MIZZOU. He is from the KC burbs. Lock has been playing high level, organized football in a large city with high level coaching since he was a child. He started 4 years at Lee's Summit, MO High...a large class school..and was recieving paid, high end, private QB coaching from at least his Junior year there. He started all 4 years at MIZZOU..an SEC school with other players, some of whom also play in the NFL. He got coaching from some coaches who had been NFL coaches...and he played against high level competition, many of whom also play in the NFL today. It is possible...likely even, that no NFL QB playing or who has ever played, has taken more snaps from childhood, to his draft day, than Drew Lock. His scouting reports coming out of MIZ....were the easiest QB evaluations ever...they all said exactly the same thing about him...and they've all been exactly spot on so far. Lock has a strong arm...makes some really good throws at times..he does have some mobility.....he's pretty good on the run, but NOT to the level of an Allen or Mahomes. He is much better rolling to his right than left. Lock is a GOOD thrower when the routes are linear...straigt line type routes..goes, seams....slants. He SUCKS when there is a timing element involved....he is a see it, throw it QB. And what I mean by that is...let's say the route is 7 yards and then a cut in, or out...or a curl. To execute that where you get the most out of that play, the QB should be throwin the ball in anticipation of the target cutting. Lock NEVER does this...never has. He won't throw a ball until the target has made the cut and has taken a step or 2. This allows the defender to recover and break on the ball. This results in incompletions, interceptoins...or in cases wher the ball is completed..it negates chances for more yards after catch because the defender has arrived to contest things. .....For confirmation of this....just go look at Jerry Juedy...that guy is really good at getting separation with a quick cut....he had ZERO TDs this past year...and underwhelmed. Locks doesn't have the skilset to maximize a talent like Juedy. He can't do it...and he's never ever going to.

As far as what this means for Seattle...it's not bad. Lock is at his best running play action and throwing linear routes. Seattle, with their offense, and what you have at WR...is a good fit for what Lock does best. It would seem to me that the FO/Coaches in Seattle probably really do see a QB they might be able to play with and win if they can get the right mix of players and an offense suited to his skills.

Lock got NO SUPPORT in Denver.

Prior to the 2019 Draft, Denver had just hired Vic Fangio. They (Fangio and Elway, the GM at the time) made it publicly clear the plan was for Fangio to get the D playing at a high level..they would go and get a veteran QB to run a ball control...don't screw it up...don't turn it over offense. They went out and traded for Joe Flacco. They then publicly proclaimed..before that draft..they would not be taking a QB in round 1. That was the year Kyler Murray went 1/1...Daniel Jones went 6. There had been speculation that Denver would maybe take Lock in round 1. ..again, after obtaining Flacco...they said they were not going QB in round 1. ...they in fact did not take a QB in round 1. However, Elway liked Lock and when he fallen to pick 42, Elway traded up to draft him...considering him to great a value to pass up. Fangio NEVER WANTED him...didn't want anything to do with him...and always wanted to just run the D and let the OC and veteran QB handle the O.

Flacco sucked..then got hurt. Lock got to play some and was decent. Lock played most of the next year...in an offense with a bad line...and NOT taylored to his strengths...for a coach who was NOT adept at developing a QB...who didn't want a young QB...and who was not hired to handle any of that. By Vic Fangios 3rd year....he was more or less given an ultimatum to win or else....and he wasn't going to try and save his job with a QB he never wanted..who he still wasn't interested in developing...and who he didn't trust. They traded for Teddy Bridgeater and while many think Lock outplayed Teddy in camp and the preseason...Fangio rolled with Teddy. Elway...gave up the GM role last year....he was the one guy left in the building in Locks corner. New GM...and new Coach...not invested in Lock or tied to him...ready to move on...and are with Wilson.

If ever there was a QB who still might be able to salvage a career after 3 disappointing years....it's Drew Lock. Just remember that he is what his scouting report says he is....and set your expectations accordingly. Get the kid a decent line and running game...and run a bunch of linear routes. You may not be in as bad a shape as some think.

Good luck! Beat DENVER!