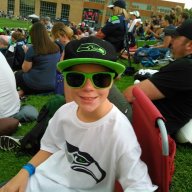 Joined

Apr 21, 2011
Messages

871
Reaction score

763
I see two separate perspectives that are both accurate, or at least arguable:

Comparing RCW to other QBs, he's got all the numbers to show he's top tier. Compare to other Seahawks QBs, other starting QBs of this or other eras, SB winning, passer rating, TDs.... He's right up toward the top in all categories.

Comparing RCW to other QBs in his exact same situation, you start to think he was only average. Obviously, there wasn't another QB for Seattle for the past 10 years with the same RBs and Ds and Coaches and schemes. But, there's more and more information that indicates lots of other players would have been just as successful, or more successful.

Exhibit A)Now that RCW isn't protected and has to perform on his own, he's failing.
Exhibit B)His backup, and perennial 2nd stringer, looks like an MVP in the same environment.
Exhibit C)Similar to Mark Sanchez and Matt Leinart, RCW looked great when protected, but failed when other teams' expectations were piled on. Who is RCW? RCW is Matt Leinart. RCW is Mark Sanchez.

So... were the Seahawk's accomplishments while RCW was QB great? Yes, and he played a part. Were the Seahawks great because of RCW? Arguable, but it's a lot clearer over the past 2 months that his role was not dependent on him (as an individual) as much as any competent QB willing to play within the system created around them.