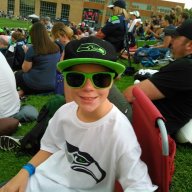 Joined

Apr 21, 2011
Messages

847
Reaction score

725
We can't both be right about Russell's work habits when he first broke into the league.
Maybe...but maybe not.
It's pretty normal for work habits to both remain the same and change as a career progresses. What I mean is that, habitually, a person defines themselves by certain traits. RCW, no doubt, sees himself and portrays himself as a workhorse that puts in more time than anyone else. Working hard and putting in the time gets a lot of results, but eventually it plateaus. So, people attempt to find ways to "work smarter". Nothing above is very controversial and we can all relate. RCW puts in a lot of time and there's no doubt he does it in a different way than he did early on.
Assuming there is both truth in RCWs work ethic and simultaneously his lack of improvement over recent years, there is a reasonable explanation. I'd suggest the most probable is that RCW concentrated, early, on how he personally can improve. I'd suggest that, later, he concentrated on what he does well and how those around him can improve.
I think his outward focus meshes with the current situation and the past several seasons. If his conclusions from his tape study consistently point to blocking or routes or play calling, he'd become consistently more and more dissatisfied. He could easily put in long days and walk out of the facility daily feeling more justified in feelings. In addition, he probably isn't completely wrong. On every play, there are multiple aspects that fall short of perfect. It would be pretty easy to imagine an unsuccessful play being successful if blocking/routes/playcall... had been different as opposed to accepting responsibility.
I'd suggest that his prep time and work ethic has negatively impacted his performance. He watches film by himself, or with Team 3, and only sees others' mistakes. If he'd limit his time to team tape study, where coaches can focus on his personal opportunities (more similar to a young player), he may get beck to personal improvement. But...that doesn't happen in a separate office, separate staff, separate cook, separate trainer....
I'm just speculating, but it's almost a predictable situation given all the information we have.