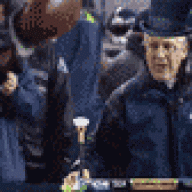 Joined

Oct 26, 2013
Messages

964
Reaction score

8
If anyone is confused why 25% of our attitude and moves this season seem to be to win, but 75% is like we are a corpse...

The Jamal Adams trade literally eviscerated the Seahawks organization.

Definition of eviscerated:

-disembowel (a person or animal).
-deprive (something) of its essential content.
-remove the contents of (a body organ).


That would explain why we have Wilson as one of the highest paid QBs in the entire league yet still somehow we did the Jamal Adams trade and then decided to "NOT COMPETE".


It's as if the owners, management, and coaches all simultaneously realized the Jamal Adams trade was the end of our franchise in the Pete Carroll + Russell Wilson era.

You wouldn't sign Jamal Adams to make over $20,000,000 dollars a year if you WEREN'T GOING ALL IN WITH RUSSELL WILSON!

It seems they realized Jamal is a bust and now they are scrambling to rebuild... it's over man. My advice to Wilson would be to leave maybe even go to the Rams or 49ers... He's way better than both those QB's and I'll still root for him even if he wants to jump ship from this train wreck that is the 2021 Seahawks.


For the record... I HATE the 49ers, I respect the Rams... I LOVE the Seahawks. But we've clearly gotten to a point of no return sitting on $13,000,000 of cap space this season when we went ALL IN WITH JAMAL ADAMS??? If I'm Jody Allen I'm firing Pete and Schneider for this "mistake"... hopefully they resign instead.