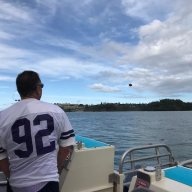 Joined

Apr 5, 2022
Messages

240
Reaction score

197
That's who we are if we take Jalen Carter at #2. I've seen enough now to accept that Carter is a luxury. If our goal is to seriously contend any time soon, we need to trade down and gather more picks. We need LBs, safeties, another corner, DL, a center and at least one more back. We have fantastic TEs that are not getting enough targets. Oh yeah, we need a QB, too.

1st rd picks don't cost as much as they used to and with them you get that 5th year option (whether you want it or not). The #2 pick is worth a glorious 2600 pts! The #18 around 900 (for reference). It would take some jockeying around but we could feasibly trade the #2 for picks 18, 19 and 20 (or just picks 9 and 10...whatever makes more sense at the time. BPA and all that).

I think the Hawks natural pick will end up around 14. Worth maybe 1200 pts and our Denver 2nd worth maybe 500. We could pkg those picks and trade for two more late rd 1sts. I mean, while we're getting crazy.

OK...I've lost track, what is that 6? 6 picks in the first round??? Oh hell yes!! And we'd still have the whole draft ahead of us including our own natural 2nd.

How would we make all that happen? Hell, I dunno! I'm just having fun on a message board and nobody even asked me if I wanted the job. It's Jon and Pete's job to figure this **** out. All we can do is hope they hit on some gems. Lots of gems, cuz 1 or 2 ain't gonna cut it.