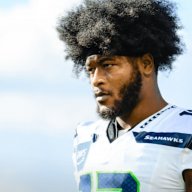 Joined

Sep 4, 2010
Messages

1,632
Reaction score

1,002
Location
There's been a lot of talk about how Pete and the offense would be lost without RW. There's no doubt that Russ is a supremely talented guy at what 'HE' does. He's a unique player and a gifted athlete and playmaker. But the fact remains that there have been holes in his game that, fortunately for us and for him, he's been able to cover over with his HOF talent. But the fact remains that the holes are still there and have been the source of much debate over the last few years as his ability to create on his own has declined. So i took some time to look at Russ's performance in isolation in the key area of passing 3rd downs. the results are below. What you'll see is that in that key area, Russ has been avg to below avg in each year over the last 4 years now.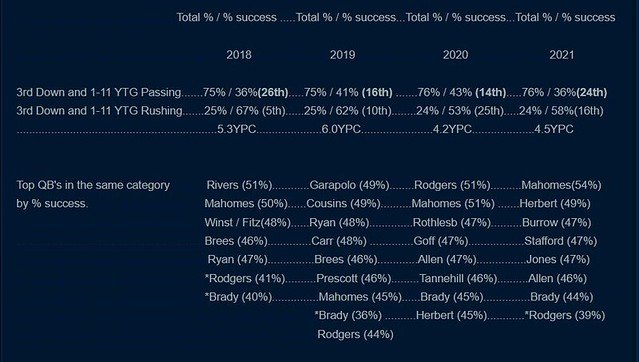 russel stats
by
J_Otte
, on Flickr
* - Brady and Rodgers rank shown for context regardless of being outside of the top performers[/size]
The average pass rate on 3rd down and 1 to 11 YTG across the league was 78% in 2018, 79% in 2019, and 76% in 2020 and 2021.

The avg success rate on 3rd down across the league was 40% in 2018 (Russ was at 36%), 41% (russ was at 41%) in 2019, 43% in 2020 (Russ was at 43%), and 41% in 2021 (Russ was at 36%). So Russ has achieved average play only twice in 4 years.

So the obvious thing that stands out is that despite Russel's high completion percentage, low TO ratio, long ball prowess and QBR, over the last 4 years, he's never been better than middle of the pack in terms of pass success rate on 3rd down and to go distances between 1 and 11 yards ( i didnt realize that i had the sort parameter off by a yard, but adjusting to 3rd and 10 doesnt change the result significantly ). Note that there were ties at various percentages, so the rank is +/- a few spots as the overall #of positions doesnt account for ties.

It was also notable that in 2018 and 2019 Brady's #s were surprisingly low, so i looked at where he ranked when passing on 1st and 2nd down at the same distance. His rate in 2018 was 58%, 2nd only to Brees at 62%. Rodgers, who's percentage also wasnt great on 3rd, turned out to be only 50% on 1st and 2nd down, which was in the bottom half of the league. In 2019, Brady was at 49%, also good for only bottom half of the league, while Rodgers was at 51%, good for middle of the pack. Rodgers' poor 39% rate on 3rd down in 2021 has been offset by a 55% success rate on 1st and 2nd down, 4th best rate in the league, while Brady is a tick better at 56%.

2018 was Rodgers last year with McCarthy, while 2018 and 2019 were Brady's last years with NE and a sharp decline from his 54% success rate in 2017 , 3rd best percentage, and 52% in 2016, 6th best percentage. I think its a fair assumption that the NE brass likely saw the sharp decline in Brady's numbers as a sign that maybe his time in NE was coming to an end. Notable that in 2021, Mac jones has cracked the upper ranks in terms of his 3rd pass success rating.

So given the fact that Brady's 1st and 2nd down numbers offset his poor 3rd down success rate, i took a look at how Russel faired on early downs vs 3rd down at the same down and distance. the results are below

2018 51% success rate (52% avg), between 17th and 20th overall (3 tied at 51%)
2019 54% success rate (51% avg), between 5th and 9th overall (4 tied at 54%)
2020 56% success rate (53% avg), between 8th 13th overall (5 tied at 56%)
2021 52% success rate (53% avg), between 17th and 23rd overall (6 tied at 52%)

The league avg passing on 1st and 2nd down by year:

2018 was 54% and we passed at 41%
2019 was 53% and we passed at 49%
2020 was 54% and we passed at 56%
2021 was 53% and we passed at 53%

So overall, Russel's ability to consistently move the chains with his arm is middle of the pack in the league, to below the middle of the pack, going back 4 years now. his best overall year in the past 4, passing on downs 1 through 3 was 2019, when we passed at a 49% rate on downs 1 and 2 and 75% on 3rd down (both below the league avg in terms of pass %). Going above that % or below it has seen his success rate drop.

Also worth noting is that since the start of the Let Russ Cook campaign, our running success rate on 3rd down has gone from top 5-10, to the lower half of the league, despite sporting solid rush ypc situationally and for the season.

So for all of the talk that the offense (and Pete) have benefited from Russ carrying them (its often been said that Pete is lost without Russ), the stats pretty clearly prove otherwise. When we rely on the pass to get us by and move the chains, we get far from elite play at the QB position. Russ hasnt come close to top 10 in passing on 3rd down in the last 4 years and has only been buoyed by a solid top 10 finish passing on downs 1 and 2 once in the last 4 years and that was in 2019 when our offense was most balanced.

So the conspiracy theories can churn, and the idea that we cant possibly be any better post Russ than we've been with him might be true because the guy has a special ability, but the reality is that as Russ has shouldered more of the burden and we've gone away from 'Peteball', our success has dropped sharply. our offense has become predictable in that most any good defense can stop Russ and we are failing to consistently move the chains when the ball is in his hands .

The above also supports the observation that our offense has become entirely boom or bust. if there isn't a big play to be made, we struggle mightily to be just average in making the small ones. And that is directly a reflection of our QB's style of play. Its not Waldron, its not Pete, its Russ.

And as far as whoever might be under center in the future, the bar they have to reach to surpass Russ's performance in key, measurable passing situations doesn't require 'elite' play based on the performance he's recorded now since 2018. We might miss out on the incredible comebacks that he's gifted us with over his tenure, but maybe if we were just top 10 to 15 in passing success rate, we wouldn't need the spectacular finish.

All of the above has been supported by additional digging into his performance this year relative to our success when our run pass ratio ticks below 50%.
That can be found here:
viewtopic.php?f=2&t=177963
The statistical data was sourced from:
http://www.sharpfootballstats.com/situa ... -off-.html