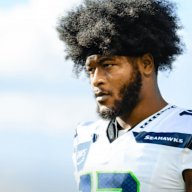 Joined

Sep 4, 2010
Messages

3,020
Reaction score

4,591
Location
I recalled Duane Brown said something along those lines right after he joined the hawks, can't remember exactly what he said though.
I didn't play the lines, but that's accurate in that if the play calls for a shallow drop, read and throw, and the qb drifts off of that release spot when the tackle's responsibility is to push the pass rusher around the top of the pocket... or if your qb has a tendency to bail out the back of the pocket when that's exactly where the tackle is moving his man, well... that's gonna look like crap blocking and result in a sack.
Similarly, if the blocking on a play calls for the qb to drop back and into the one gap (back and slightly left, or behind the guard) and for whatever reason, he shifts right ( sight lines... happy feet), he's going to likely be dropping close to the spot the center is surrendering ground, if he can't stalemate the rusher at the line.
It's a very important factor in assessing qb play and o line performance. Lineman aren't just standing up and blocking. There's in many cases as much intent in where they 'allow' a rusher to go as there is in where they move a defender in run blocking.