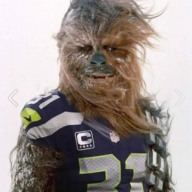 Joined

Oct 1, 2012
Messages

21,430
Reaction score

722
Hawker55":u9rnss9r said:

Sgt. Largent":u9rnss9r said:

Hawker55":u9rnss9r said:

Sgt. Largent":u9rnss9r said:

Penny's ran for over 100 yards twice in the past three weeks, and the O-line had their best pass pro game in almost two years against the Rams.

Stop making excuses for Russell. He has plenty of talent around him to not be playing as poorly as he's played the past year.

You don't want him gone, fine. I get it, it's a risky move.

But enough already with the excuses. He's stunk. Period.

Spinning my take a bit aren't ya? Who said he hasn't been stinking it up, matter of fact, I specifically said he has been? What I also said was, you can not move on or replace him at this stage in his career, to do so would be foolish.

Question everyone should be asking is why does he suck all of a sudden?

After 11 years he all of a sudden can't read defenses?

He lost his accuracy?

He lost his confidence?

He lost his leadership skills?

He lost his work ethic?

I think we know the answer to all of those questions. So what is the problem? What's different this season?

- Finger has contributed to accuracy issues

- work ethic still as great as always

That's where you lose me and others. Leadership? Ask former players like Bennett, Sherman and Baldwin about Russ's leadership. Not exactly ringing endorsements.

Confidence? Seems to be wavering to me. Russell isn't his usual confident self this year, especially since the injury.

Read defenses? Check out the All-22's. This year and last. Russell still is missing open receiver and relying on plays breaking down.

Problem now is he's injured, slower and appears shook. Voila, 5-10.

That 5-10 record has nothing to do with a historically bad defense first part of the year, continuous bad schemes, game plans and in game coaching all season, not to mention our garbage back up QB starting 3 games. Or is it all on Wilson ? Seems to me weren't we up at one point to the Bears 24 to 7 or something like that? I could be wrong, and didn't our kicker miss a 39 yed field goal?

Again , yes RW has been bad a lot of this season, but to put this record on him, or all the offensive problems on him is absurd. Not saying you are.

But to say he all of a sudden can no longer read defenses when he's been doing it at a pro level since Wisconsin, sorry you won't convince me of that. That just not something that goes away. You either can or you can't.

As far as his confidence, you could be right.
Last year's D was on a historically bad pace for half the season, and we still finished 12-4.
This year they're now ranked 8th in scoring D, and turned it around much quicker than last year.
So what's the one big difference between last year and this year, and why we're now 5-10 and not fighting for the division like we were last year?
Russell Carrington Wilson. That's it, and for the past 8-9 years that's always been the difference.
When Russell plays lights out, he makes up for the team's deficiencies. When he doesn't like this year? 5-10.
Can that change next year? I don't think so with Russ and Pete together again. Something needs to change.