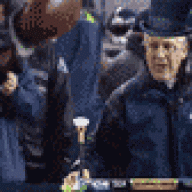 Joined

Oct 26, 2013
Messages

964
Reaction score

8
I really do think the Rams or the 49ers will win the next Superbowl.

So if you wanna look on the bright side, Wilson with the Broncos will stutter step pretending to be the real deal...

But Wilson will have to face the music when he loses with what the Seahawks blatantly denied him! The Seahawks denied a good O-line, they denied an even ARGUABLY good Offensive Coordinator, and they denied him a head coach that would do the right things to win a Super Bowl.

Wilson might have all those things the Seahawks COULDN'T DO ... maybe the BRONCOS WILL DO... I still think they will be 1 step short. There are just simply better teams, the Rams and 49ers will be better than any AFC team next season IMO.

There is one thing I know for sure 100%... We can NOT HAVE SHANE WALDRON WITH RUSSELL WILSON!!!

That's probably why Wilson left, Wilson like myself realized this guy is unqualified. He's a complete chump. Shane Waldron is the lowest of the low for offensive coordinators... that's just a fact... he has no experience and no qualifications.

Why would I (put myself in Russell Wilson's shoes) want to play for a complete joke of an offensive coordinator???

Imagine being a 'Hall of Famer' and the best your organization (the Seahawks) can do for you is a total chump with no credentials (Shane Waldron) to be your offensive coordinator???

It's very easy to hate on Wilson but if I was in his position I WOULD DEMAND to have a good offensive Coordinator... Pete Carroll probably put his foot down and said, "this is our guy".

Wilson very understandably said, "Well good luck to the Seahawks I love you guys but I can't play here any longer".

I think it may be that simple Wilson wanted to play for a real Offensive Coordinator and the Seahawks management doubled down on the inexperienced, unprepared, joke who is Shane Waldron.