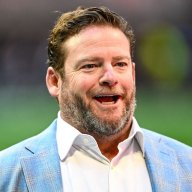 Joined

Aug 22, 2012
Messages

11,028
Reaction score

2,761
I think Kearly nailed exactly what we will do.

I think we'll find a way to keep Miller around and I think in Pete's strategy Hausch is an important piece and will get paid so. I'd like to see him get multiple years (more guaranteed for a lesser cap hit).

I don't see us restructuring Sherman. I think he's going to get a ridiculous contract in the FA market and everyone knows this. It will be a sad day to see him go but I don't think we can afford to keep him and Thomas (who I find more important). I see us franchising Wilson for a year before signing his long term contract, but that will have to be in good faith with Wilson and if he doesn't like that we'll have to get his contract done and we'll be able to franchise Sherman.

I think Lynch has one more year before the number of carries really takes it's toll. His replacement will have to be found in this years draft as I don't think Michael is what we want.

Bennet has to be paid and has to be on this team. There's no question we re-sign him. I think Tate's market will be large enough where he will be gone for very good money. I also think a lot of what he does is done better by Harvin.