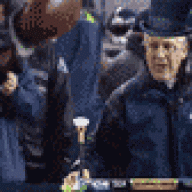 Joined

Oct 26, 2013
Messages

964
Reaction score

11
This guy "hawksfan68" literally called that move how Jamal Adams needed to be adjusted with his own position or the team needed to adjust around him.
I took him seriously and together we pieced together the scenario of Jamal Adams and Ryan Neal on the field at the same time.
I just have to give a shout out to this poster because the coaches did JUST THAT...!
And I believed in his idea (on record). I still wish we had KJ Wright but everything else of what I want to see happened.
The coaches actually did something different defensively, and it seemed to work much better even though we still gave up 457 yards or something...
Our defense seemed to be capable to be the other half of our team! Dare I say they outperformed the offense today by a WIDE MARGIN!
If our defense can continue to play like this I think we might make the playoffs...
It was a step in the right direction... and we saw how Ryan Neal + Jamal Adams on the field together is actually legit...
I think those 2 on the field together is working, let's keep doing that.
Tokadub":3ts9sqn1 said:

hawkfan68":3ts9sqn1 said:

Jamal Adams reminds me a lot of Mark Barron. Mark was a safety but struggled at that position in the NFL with the Rams. They moved him to LB and instantly he started playing better. Jamal is a better talent than Mark but I think a position change like that would beneficial. Put Taylor back on DL and make JA an LB.

https://en.wikipedia.org/wiki/Mark_Barron

That sounds crazy on paper but I think you might be correct.

Imagine if we had Bobby Wagner, KJ Wright, and Jamal Adams at linebacker and then put Ryan Neal at Strong Safety!

That might actually be a top 10 defense which could give us at least a CHANCE to win a Super Bowl... unfortunately we don't have KJ for some unknown reason.

In that scenario Jordyn Brooks is a bust draft pick but I think that might also be correct. I haven't seen any of the hype others have spoke of regarding his play.

I guess you could put Jordyn Brooks in KJ Wright's place in this scenario but I think it's so much worst sadly.
Jordyn Brooks in KJ Wright's place was enough for the win today. And Jamal Adams giving up a free touchdown with broken coverage...
That was still an improvement... I'll take it.