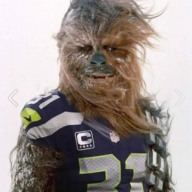 Joined

Oct 1, 2012
Messages

22,189
Reaction score

1,689
TwistedHusky":1ifyvvj5 said:

To be fair, that Colorado secondary was shutting everyone down that year.

I was actually excited we got TT, though he was admittedly a little slow for the position.

But yeah. I was way wrong there. TT was not going to work here.

(It is weird that we certainly did not put a ton of draft capital into the team, for a defense where the success or failure often hinged on the safety position. Budda Baker was just sitting there and we overlooked him. Then we didn't get Savage, but instead let GB get him. Great safeties were there for us, we just traded down for other things. Frustrating.)
It took Pete and John too long to move off their "we're superior talent evaluators, so we can make chicken salad out of chicken crap" philosophies.
This is especially true of the secondary. Pete drafted and developed the LOB, most of which were late round picks. So he thought it was easy, so no high draft capital was needed to address those positions once the LOB left right?
Err, wrong. REALLY wrong.
Even now the jury's still out on guys like Amadi and Blair, two more safeties drafted. Again, why we gave up so much for Adams, and are probably going to have to pay a lot to extend Diggs as well, because there's no one on the roster ready to step in there either.