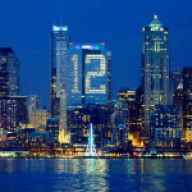 Joined

Mar 3, 2007
Messages

8,550
Reaction score

68
Location
Explain that optimum talent that beat the superbowl favorite Saints in the playoffs...

The guy takes a team full of no names, has beens and young talent (but not yet playmakers) and literally orchestrates one of the biggest upsets in NFL playoff history, yet he's only capable of winning with superior talent?

The hate is strong.

And btw, that game was on NFL network the other day. Lots of passes going all over the field, including the middle. Timing, hot calls...

Makes you wonder what Hass could have done opposite the LOB and with Lynch established as Beastmode. That game was the birth of the Seahawks identity.
Very true. I don't hate Pete. He's a very good coach. He has too much power when it comes to football decisions....especially if he's vetoing John Schneider. It was John who first discovered RW and had to convince Pete Carroll to draft him. I just question Pete's decision making at times. One of those was after the 2010 season which you speak of. They decided not to resign Hasselbeck after that season. Instead they moved forward with TJack and Charlie Whitehurst. Both or those guys had a stronger arm than Hass but lacked the football IQ that Hass had. Thus they took a step backward from a QB perspective in 2011 but the defense got stronger. Imagine if they had resigned Hass, I think the Seahawks would have been a playoff team. Certainly would have 9+ wins with Hass at QB.
2022 could be like 2011 in the sense they are taking a step back at the QB spot but possibly getting stronger on defense. How good the 2022 defense will be is still unknown at this point. If Pete can refocus and bring it to top 10 or even better top 5 as it used to be in 2012 - 2017, then there's a chance they could get back to the SB in the future (most likely not in 2022). I don't see any team that is dominant in NFC.
Last edited: