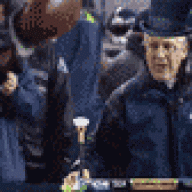 Joined

Oct 26, 2013
Messages

964
Reaction score

8
So from my understanding anyone who is in the NFL whom is un-vaccinated will be tested DAILY to see if they are positive with Covid-19?

So why does not 1 single news source ask the 100% obvious question according to the NFL's COVID-19 MANDATES!!!???

"Is it possible Aaron Rodgers will not test positive one single time for the next 10 days??? IF HE DOES HE MISSES 2 weeks!"

From my understanding if he tests positive one more time in the next 10 days he will automatically miss the game vs the Seahawks due to NFL mandates and restrictions...

WHY IS THE MEDIA IGNORING THIS FACT???

The media is just going to disgustingly focus on politics and say he's privileged etc? But they will LET HIM BE PRIVILEGED if they don't call him out! He needs to be tested AGAIN according to the NFL COVID-19 POLICY!!!


For the record, I do not believe any free American should be FORCED to take ANYTHING into their body... but I'm still wondering why the media is ignoring the elephant in the room and just allowing him to go off the grid for 10 days with no tests until he plays us (that's what it seems like).


I appreciate the freedom of speech this forum allows, I have no intention of going to the joke censored Reddit or other similar platforms.