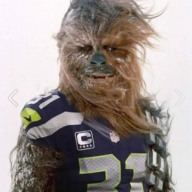 Joined

Oct 1, 2012
Messages

22,162
Reaction score

1,648
Glasgow Seahawk":16jq0gsj said:

Could be better, could be worse. It wasn't 1-3 but that first half it could have been. Played a bit better 2nd half. We tend to do better against them in Seattle.

Losing Marshall and Roldan is a bit of a disaster though. I hope Smith is back and Shipp starts (if Roldan is out). Torres will have to do at cb.
Smith is a big one, we've lost so much steady play at the back as well as an attacking threat down the left side since he's been out.
But for his injury I'd be shocked if he's even going to be available.
I'd hate for this type of incredible comeback season to end at the hands of the god damn Timbers. That's just cruel.