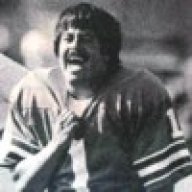 Joined

Sep 13, 2009
Messages

1,477
Reaction score

0
Location
Glasgow Seahawk":3am4vrdv said:

...about last season and us parking the bus.
Did we actually "officially" park the bus last year? I don't really remember it that way, but I was, er, drinking at the time. I certainly don't remember us bombing forward on a maniacal goal-hunt, but I don't think we were playing for the 0-0 tie until extras at the earliest.
For me, losing to Portland would have been much worse. While I respect that for the most part, the Timbers aren't an MLS chop 'n flop outfit, Caleb Porter is about as pleasant as a dime-sized hemorrhoid.