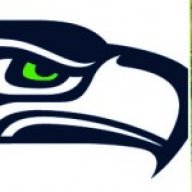 Joined

May 19, 2017
Messages

4,002
Reaction score

473
No , that was bad all the way around. Pete Carroll took the heat and said it was on him but he doesn't call the offense. That's what a leader does.

Now Mr Unlimited should've as a top tier

League leading qb should've recognized this and threw it away, tuck and run (he was still fast at this point) Or called an audible and give the rock to two-fo

Peyton Manning would've thrown it in the dirt so would've Brady or any other qb

That had ANY sense .

Unlimited was probably already picturing himself on sports illustrated and making the talk show circuit juuuuusst before throwing a history changing pick.
Lol. So all those QBs you listed were going to throw a split second timing play into the ground? Ok sure. You got me there. What those QBs would have done though is to take it upon themselves to call a timeout knowing the play wasnt going to work. It was the worst play call ever. The Patriots knew what it was before the ball was snapped and Seattle had the worst possible personnel on the field to execute it. Carrolls biggest blunder was not firing Bevell immediately after that play to show it wasnt acceptable. Instead he chose to lose the locker room and it hasent been the same since.