I have the Seahawks trading down in the 1st round with the Panthers. Seahawks acquire #9 in the 1st round and additional 2nd round pick. This is with the assumption Coach Carroll and John resign Geno.
1st round #9 (from Panthers) - (OLB/DE) Will McDonald IV 6'3" 241 lbs. Iowa State:
As you may already know I consider McDonald the best pass rusher in the draft, and after the Senior Bowl he is getting bumped up into the 1st round by draft analysts. McDonald will be a menace at OLB in a 3-4 with his elite pass rushing traits. He is not another Bruce Irvin, Bruce tried to win with elite quickness and then tried to bull rush at a little brother size (for DE). McDonald is a more refined pass rusher than Bruce, although he is still not a finished product. McDonald has an amazing spin move, which very few pass rushers have coming into the NFL or even develop into their pass rushing repertoire. McDonald has the best turn the corner bend in the last couple of drafts. He has 35-inch arm length! He will probably blow up the combine with his testing numbers, so I project him being a top-10 pick. I've seen so many comments as to why his production wasn't good, all I have to say is look at how he was played in the Iowa State scheme. He was a majority of the time playing DE in a 3-4 scheme! So yeah, bad fit, 50 lbs. too light for the position. If Will Anderson (Alabama) was playing mostly DE in a 3-4 for scheme, stat scouts would be asking the same question about him.
1st round #20 - (OT) Dawand Jones 6'8" 375 lbs. Ohio State:
Jones is an elite prospect but is a one position only (RT) offensive lineman, which is why I think he could last to #20. He is a bully in the running game. In pass pro he has 36-inch arm length and a huge wingspan, so good luck trying to try to rush past him on the outside. I love Abraham Lucas, but Jones is such a stud at RT that I could see the Seahawks moving Lucas to RG. Lucas I believe could be a great RG with his athleticism and alpha dog demeanor. This pick of Jones would make us a right-handed team, so any time we wanted to impose our will on a defense...we'd run it to the right side of the offensive line. I was going to change this pick after I had seen Rob Staaton had made the same pick at #20 in his latest mock, but I feel it makes too much sense after the Senior Bowl & our need on the offensive line. Watch the RT in the video below, thats Jones.
2nd round #37 - (OC/LG) Steve Avila 6'3" 332 lbs. TCU:
Aviala was a player I liked in round 3 before the Senior Bowl, but as of now I consider him a top of the 2nd round prospect. He took snaps at Center and that is where I have him playing for the Seahawks. The big man is a decent athlete and has a great anchor. He has ideal size for a Center and can play in both man and zone schemes. These last two picks would give the Seahawks an elite offensive line, so we could crush in the running game and give an average to above average QB chance to succeed as a game manager.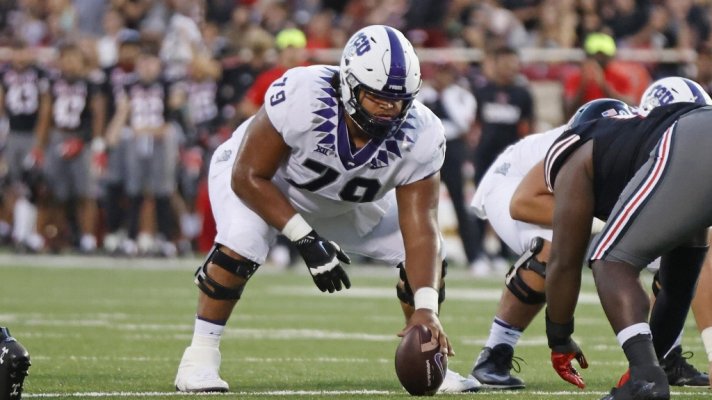 2nd round #39 (from Panthers) - (NT/DT) Gervon Dexter 6'6" 315 lbs. Florida:
Dexter has amazing play strength and looks to have good arm length. I think he is more of a linear athlete, which is fine for a NT. He sheds blocks like a big brother disengaging from his little brother. With a supporting cast of pass rushers, he could contribute to sack/pressures. I think he is an elite run defender with upside as a pass rusher.
2nd round #52 - (DE/DT) Karl Brooks 6'3" 303 lbs. Bowling Green:
Brooks is an athletic big man that can apply pressure. He has high upside and would be a great fit for the size and athleticism the Seahawks want at DE on their 3-4 defensive line.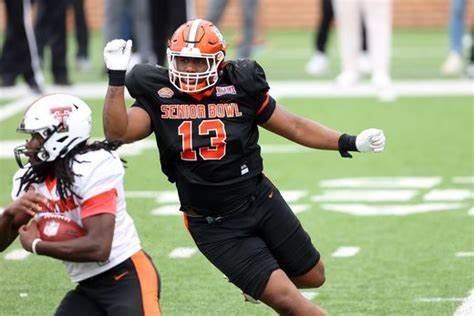 3rd round #83 - (FS/SS/nickle CB) Sydney Brown 5'10" 213 lbs. Illinois:
Brown isn't an elite athlete, but he is a baller. I think he could be a much cheaper version of Diggs and just as good as Diggs prime.
4th round #123 - (RB) Kendre Miller 6'0" 220 lbs. TCU:
Miller has good size, power, and athleticism. For us he would be a legit backup RB or even really good starting RB if K-9 went down with an injury.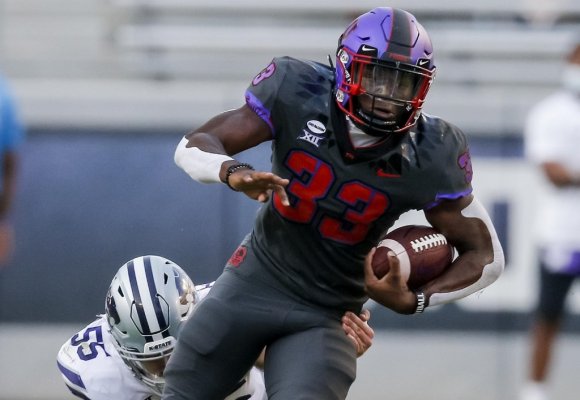 5th round #153 - (CB) Chamarri Conner 6'0" 205 lbs. Virginia Tech:
Conner has good size although a bit short in arm length. He would compete for CB and Safety for us. He played both at VT.
6th round #156 - (ILB/OLB) Noah Taylor 6'5" 240 lbs. North Carolina:
Taylor, when at Virginia, played Safety, nickel CB, ILB, OLB, and DE. He transferred to North Carolina so he could play at one position. So, he obviously has the athleticism, he just needs a position for coaches to stick him at so he can focus on. Givin his size, athleticism, and previous experience I think he would be a ILB for us. At the least he could be a situational pass rusher.
Watch Taylor's highlight below!
Noah Taylor has been one of the top linebackers on the Cavaliers' defense for several seasons and 2021 was no different. Taylor's 8.0 tackles for loss led U...

youtu.be
Last edited: