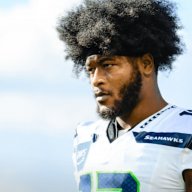 Joined

Sep 4, 2010
Messages

1,632
Reaction score

1,002
Location
On the previous play, the ball was handed off to Lynch, and he almost got it to the house. Doesn't that sort of dispell the stories about trying to screw Lynch out of the MVP and/or build Wilson into one?
Yeah, I don't think it was about elevating Wilson. Passing was a logical call to make. The play should have been an easy TD. I'd be interested to know how many times in the last 10 years that same pick play has been intercepted. I'd wager Wilson's might still be the only one. It was a bad throw and a great read by the defense.
Had we scored, no one would have said we were lucky to get it in with such a high risk play. It was a gimme and we botched it.
I think I saw a stat at one point that said that over the course of the year, we had the ball in a similar goal line situation and when running, only converted 1 of 4 or 5. That's 20-25% success.
Unfortunately, losing on a Wilson INT and then on THAT play with a SB on the line... for there to be no constructive criticism of Wilson of how the throw could have been better... THAT, I think, after already experiencing the coddling of Russ prior, was the straw that broke the LOB's back. And I honestly can't blame them.