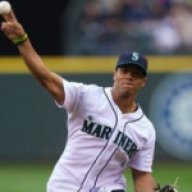 Joined

Mar 13, 2013
Messages

680
Reaction score

21
I don't think this team is going to be anything special this year. I don't know many fans who are expecting us to win many games at all this year. With that being prefaced, what kind of year do you want to see from the Hawks?

One of my biggest complaints about PC in the past has been a very conservative approach to start new players/rookies to just see what they have in a game situation. He will talk up "his guys" for 3 years straight as "the next big thing", and some of them will even seem to do pretty well in limited action, but then they almost never see the field full time and then after their rookie contract they are out of here, or cut before that at sometime.

I know I might be alone in this, and yes I always want to watch the team win as many games as possible. But for this season specifically, I will almost be more disappointed if we start a slightly "better and more experienced" player for the season, only to win maybe one or two more games because of that, when we could have started younger talent and gotten them the experience/see what they got.

I am just afraid that we are going to start some entry level depth player we have instead of a Mafe or such young talent, and a clear rebuild/reload season that would have been the perfect opportunity to let that young talent get their bruises and reps would be wasted.