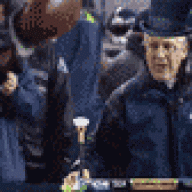 Joined

Oct 26, 2013
Messages

964
Reaction score

8
JayhawkMike":1ed19467 said:

I'll have to rely on others for any hope going forward. Show me the light.

For me:
PC is still around and needed to go long ago with a nice gold watch and our thanks.
OC might be able to run more of his stuff after the reigns maybe were loosened at the end of last season. Maybe.
DC is a protege of the 4 year failure KNJ and PC is running the show so no change.
Trades: same JS giving good capital for one year rentals and a bad Adams trade (still like Adams but the bad bad trade)
Draft: same decision makers. Expect the same type of first pick being completely wasted yet again. Don't expect a Chubb or Taylor or creed Humphrey to ever be chosen - especially if the "experts" have them highly ranked. We need to go for the surprising pick because we are smarter than everyone else.
Russell Wilson: could still be gone. That of course would hurt next year AND give PC an excuse to waste more years of the Seahawks fans lives
Playoffs - PC sucks on the playoffs. 1 win in FIVE years. Why would anything change?
Running Back: who? Will likely overpay for Penny who will last 4 games and be done. Carson should be gone. Collins is a FA.

So, I see us as maybe barely making the playoffs if even and then a quick exit.

So where is your hope because with PC I think we are screwed until he is gone.
Well I'll answer this before I read any responses...
I don't have hope... I really don't.
Best case scenario our defense gets better with these new hirings, but knowing this staff they will skimp on the offensive line and we will be out of the playoffs round 1-2 because Wilson cannot execute an offense with a trash offensive line and mediocre Running Backs. Marshawn Lynch was the only reason Wilson could do anything with our trash O-lines since he's been here.
Honestly it's amazing he would still be on this team with our trash O-lines for around 10 years.
It's gonna be the same thing of the past 5 years I'm afraid.
I think even if we improve on one side of the ball the Pete Carroll led team will find a way to ensure we cannot make it to the Conference finals.
Like right now it seems very clear they are going deep to get some new defensive coaches... WE NEED WAY MORE HELP ON OFFENSE THAN DEFENSE IMO.
We are not gonna win in the playoffs with Shane Waldron and a trash O-line and that's what I expect to see this season.
Shane Waldron should be fired immedietely. As another Seahawks fan has said, why do we have a borderline hall of famer QB but we are hiring inexperienced trash offensive coordinators with no resume?
IT'S INSANITY! I think we have a 2% chance to win a Superbowl without a new Offensive Coordinator and investing HEAVILY (look at what the rams did going all-in) with the O-line and D line/ Pass Rush.
Jamal Adams might be such a bad deal that no coach could manage this shit show even with Russell Wilson, but if they don't do something different on offense than Shane Waldron I'm 98% sure we won't make the Conference Finals.