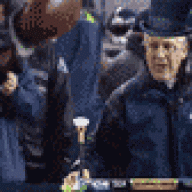 Joined

Oct 26, 2013
Messages

964
Reaction score

10
https://overthecap.com/player/jamal-adams/5590/
https://overthecap.com/player/russell-wilson/1569/
If we were to move on from Russell Wilson after this season we have 26 million dollars of dead money...
If we were to move on from Jamal Adams after this season we have 28.4 million dollars of dead money...

In other words, our team is done unless both these players work out...

However, RIGHT NOW we are holding onto over 11 million dollars of cap space currently with no apparent plans to ever use it:
https://overthecap.com/salary-cap-space

Conclusion:
If we don't spend that $11 million dollars before it's too late (or the trade deadline) we are 100% IN PLAIN PUBLIC VIEW QUITTING ON THE SEASON AND THE RUSSELL WILSON ERA...

If they don't spend that money it means they are planning to trade Russell Wilson this off-season and they are willing to absorb his 26 million dollars of dead money (which is why they aren't spending the 11 million of cap space).

I don't agree with this approach I think we should spend that 11 million to try to win this year, because if we lose Russell Wilson Pete Carroll will be retired or worst by the time this team is relevant again.

Not really sure what's going on unless the whole organization hates Russell Wilson.

We already let KJ Wright and Josh Gordon go so, it seems to be the case we are about to blow it up and we already gave up on this season?

This is speaking strictly from a financial perspective, they need to spend that money or I will stand by this point.
It's sad Jamal Adams has more dead money than Wilson and he isn't even good haha.