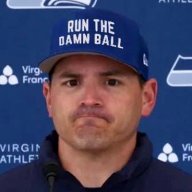 Joined

Feb 23, 2007
Messages

15,877
Reaction score

731
Location
Stop talking about trading Russell and DK and any of our top talent?

Ever hear the saying don't throw the baby out with the bathwater? Oh sure, I get where the notion is coming from. Get all you can!! Surplus Sale!

It's short sighted. Don't fall victim to emotion. Use your intellect. Message boards are synonymous with hyperbole. I am not saying there aren't some specific cases to debate where it could seem logical to deal a player here or there but let's all settle down, cool it and realize most of us are not in our right minds dealing with a 3-7 season we all expected would be 7-3 at this stage.

Don't throw the baby out with the bathwater.

There's no perfect solution here. I am not trying to provide that easy answer but if you press me, I am going to tell you that it's time to let Pete walk. Not John. Not Russ. Not DK. Not Lockett. I am convinced none of them are the problem. But Pete? He's been figured out, and he refuses to change philosophy even in the face of obviousness.

If only I had my crystal ball clear enough to see who we should select as the successor to Pete AND be equally as successful. Sadly, that crystal ball doesn't exist. So all I can do is hope and pray whomever is the next HC for this team can have half the success Pete did because that would still be a ton of success.