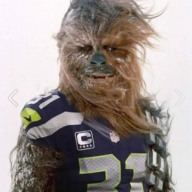 Joined

Oct 1, 2012
Messages

24,778
Reaction score

6,063
Not mad - just didn't understand what they were doing - and for a few weeks here - quite honestly it has seemed rudderless - aside from the private plane QB search.

I didn't say 'win now' with bad signings and trades. I believe I've already gone firmly on the "don't do stupid things like the Adams deal" -

So, not 100% sure what you're talking about.

What I DO know, is that the revolving salary cap hole with rookie contracts, whether they are QB or other positions, creates revolving windows every several years to 'get irresponsible' with the cap, future mortgage some acquisitions, and win hardware. AKA the RAMS.

Yea, and we're 1 busted ankle away from having ZERO running back capability. And Henry was the best back in the league last year. So, again, not sure what you're really talking about there other than the vague "on the downside of his career". I'll take his last 2 or 3 years vs. pretty much anyone in the league - Lynch in his prime included.

Having said ALL of this. The Sherman postcast allusion to going back to the old defense and ditching last years horrible experiment explains ALOT of what HASN'T happened to me.

And, I get it. Personnel acquision is a combination of Draft, FA, UDFA. I get that it's a balance, and you pick up pieces from each both at different times, and for different needs.

Didn't say 'win now badly'. I said are we in it now? I don't 'believe' that we are, from the last several weeks of activity - and honestly - the draft is so spotty with what sticks and what doesn't - you're not gonna exclusively build there - in particular running a 3-4 defense.

I believe there are 1 or 2 more big things coming after the draft - and I hope they trade down.
I still don't know what you're talking about.
1. We can assume a 2nd dependable RB need will be addressed in the draft....AND a 3rd vet will also be signed before camp.
2. The D-line has been addressed so far, with the Jones and Reed signing, and again.......wait for it, also 2-3 more spots addressed during the draft and post draft free agent signings.
3. MLB need has also been addressed with bringing Bobby back.
4. Do you want want more irresponsible window spending like the Rams or not? I can't even tell where you're at with that comment.
So "rudderless?" I can't even give you the benefit of the doubt on that. Seems like we are addressing most needs, and will continue to do so through this weekend and post draft filling out of roster.
Best I can tell is you're confused and angry cause you thought we'd go nuts with more free agent signings and trades for well known players? I can't even be sure about this.
Or you're just pensive and nervous pre-draft and thought you'd throw up a messy incoherent rant.