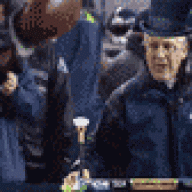 Joined

Oct 26, 2013
Messages

964
Reaction score

11
I saw a recent thread that asked if we should trade Russell Wilson:
https://seahawks.net/viewtopic.php?f=2&t=175027
This is what I wrote in the trade Russell Wilson thread:
Tokadub":1ho0zy33 said:

I haven't read the responses to this thread yet but I would say 100% no!!!

Trade him for who???

Maybe some of the responses have some ideas there?

Off the top of my head I can't think of a single trade scenario to move Russell Wilson.

Just watch the first drive of our last game. Wilson is throwing insanely accurate darts over the middle.

I don't know why we couldn't move the ball later in the game, I don't know if I'll figure that out but I need to analyze that game more to be honest.

But if you look at Russell's good throws that game, he is still a top 5 QB no doubt.

I think a better poll would be would you be in favor of trading Jamal Adams? I WOULD TRADE HIM FOR NOTHING if someone takes on his contract. I WOULD LITERALLY GIVE AWAY JAMAL ADAMS JUST FOR THAT 5 MILLION CAP SPACE THIS SEASON.

I don't follow the business side of football down to the little details but if we could get rid of Jamal Adams with no dead money, pretend it never happened (even with losing draft picks) I would pull that trigger immediately.
I voted yes assuming we could trade him with no dead money, I'm not sure if that's possible.
I think Ryan Neal is better than Jamal Adams in our scheme.

Ryan Neal had 2 Interceptions last season in just 4 starts:
https://www.pro-football-reference.com/players/N/NealRy00.htm
https://www.pro-football-reference.com/players/A/AdamJa00.htm
Ryan Neal also had 5 Passes Defended in 4 starts compared to Jamal Adams who had 3 in 12 starts...
CONCLUSION:

Nobody has seen a lot of Ryan Neal due to the disastrous Jamal Adams trade. But Ryan Neal reminds me of Earl Thomas in Strong Safety form. HE IS A BALL HAWK, HE ATTACKS THE PLAY AND WINS A LOT.

If it wasn't for the disastrous Jamal Adams trade Ryan Neal might be an upcoming super star based on what I've seen in his limited play.

Ryan Neal looks like a starter Jamal Adams looks like a joke. Just my opinion... I don't think the coaches are gonna figure it out though.

If you do a quick mathematical comparison with Ryan Neal's small sample size he is infinitely better than Jamal Adams so far:

Interceptions:
Jamal has 0 (or undefined) Ryan Neal is literally infinitely better in this category.

Passes Defended (average per season if starting every game):
Ryan Neal = 20
Jamal Adams = 4

Ryan Neal is either infinitely better or 5x better based on Interceptions and Passes Defended last season...?