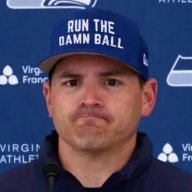 Administrator
Administrator
Moderator
Joined

Feb 23, 2007
Messages

16,907
Reaction score

2,655
Location
Like most of you I was celebrating last night. God bless our Hawks and those scrappy Lions! It's all house money at this stage, nobody expects us to win Saturday outside of the Seahawks. I'm just going to enjoy the week leading up to the game and cheer them on this Saturday. No matter the outcome, this season was a success, and the future is nothing but bright!

Now, on to the 5th pick. (Thanks for nothing Chargers).

I don't follow college all that much so I was curious if anyone could help guestimate who the Seahawks might be looking at to draft at the fifth overall pick this April. Let's just assume John and Pete won't trade down for more pics. IF they were to stay put at the fifth pick, and taking into consideration the teams that pick before them, who do you think they might select?