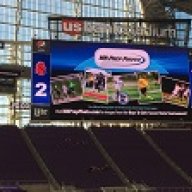 Joined

Mar 3, 2007
Messages

20,596
Reaction score

3
Read through the DP list of MLS players. Tell me that those clubs don't foresee that players in their mid 30s won't be on the field for a good portion of their games. And, Dempsey is not "healthy"

You telling me that I, with one google search, came to this information but these MLS clubs went into their seasons expecting these DP players to be a factor in the majority of their games? The clubs are all just coming to the realization now? Robbie Keane played in 23 of 34 MLS games in 2015. They still brought him back. That's barely 75%. Worth the investment in another year?

No. They made the investment on aging super star players because even off the field they offer value. There is no way the Galaxy expected Gerrard to play a whole season as CM. Or Drogba. Or Kaka. Etc.

(The outlier is Pirlo)

And don't suppose you know why I'm making this point. I like Dempsey as a player. One of American's greatest. I'd like to see the league start changing its valuation of players away from guys who should be playing in "legends" games in major leagues across the world and start focusing more on bringing in real talent. Dallas and Chicago are doing that. I'm sure others (without looking much further). Point is, it appears as though many MLS teams target DP players with the assumption they will not be available (for whatever reason) for 1/4 of their season or more. The statistics on that list bare that.

The Sounders have a chance here to upgrade their lineup. But, if they "rely" on Dempsey as a starter they will just be trying to fill his empty spot more often than not. I'm not "OK with him being on the roster"... it's not my team. My point is the MLS doesn't always invest its money in players wholly on game production.