Comments welcome. The initial "what if?" in this one was to see what the roster might look like if we signed Geno to a $90m/3yr deal.
Diggs and Adams are being kept in this version. Releasing them in 2023 only makes sense as post-June cuts. We tend to avoid those for both player reasons and long-term cap management reasons. The focus here is on building through the draft and increasing the talent level of the team in each year going forwards, rather than going too all in on 2023 and sabotaging 2024.
Early decisions
1. Resign Geno 3 yrs/$90mil (25m/30m/35m). Reasonable deal given the alternative of a $32m franchise tag.
2. Keep Diggs and Adams for one more year. We can get $20m of cap savings by cutting them in 2024, so adding youth to the safety position now makes sense.
3. Release Gabe Jackson, Al Woods and Quenton Jefferson. Woods will unfortunately be turning 36 and only played 39% of our snaps last season despite being our best DT by a mile.
4. Extend Harris, Nwosu and Brooks. We could backload these significantly to pick up a lot of cap savings. I'd rather do a minor backload to get $7m of cap relief next year without damaging our future cap too much.
Resign our RFA/ERFA
Ryan Neal (RFA), Michael Jackson (ERFA), Jon Rhattigan (ERFA), Myles Adams (ERFA), Godwin Igwebuike (ERFA), Cody Thompson (ERFA)
Resign a few of our UFAs, or similar cost players
Drew Lock $2m, Phil Haynes $2m, Jason Myers $3.5m, Kyle Fuller $1.5m, Tanner Muse $1m (no RFA), Tyler Ott $1.3m
Trading down in the draft
Mocked using PFN and trying to make fair trades only. In this scenario Anderson and Stroud were both off the board at pick #5 so I wanted to trade down and take Simpson. The Raiders wanted to move from #7 to #5 for Young, and then the Packers moved from #15 to #7 for Myles Murphy. Luckily Simpson was still at #15, and I used the excess draft capital to trade up in the middle rounds.
#15 Trenton Simpson, ILB
#20 Brian Branch, S
#31 O'Cyrus Torrence, OG
#37 John Michael Schmitz, OC
#45 Ika Siaki, NT
#52 Calijah Kancey, DT
#63 Zach Charbonnet, RB
#83 Jack Campbell, ILB
#95 Will MacDonald IV, DE
#120 Jonathan Mingo, WR
90 man roster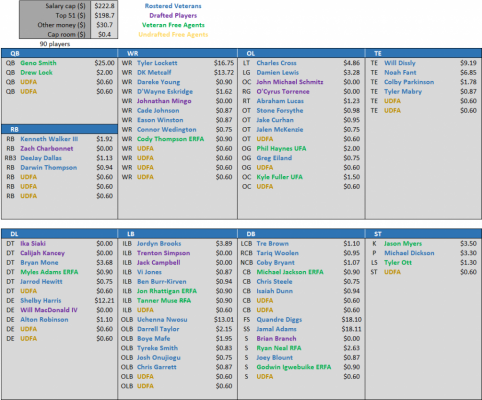 Thoughts
Nothing done here to address QB long-term or our outside pass rush, so we would be counting on our existing OLBs improving and Geno having a good couple of years. Starting a rookie OC and RG together is always dangerous, but both of these players are much more polished than the typical college lineman.
LB group would go from a weakness to a strength. Both Simpson and Campbell play with tremendous effort and would bring back physicality to the middle of the defense. Branch would be getting snaps all over this year, probably a lot at nickel CB, and then would take Quandre's spot next year.
Siaki gives us an immovable run defender at 0/1 tech, while Kancey is undersized but has enormous upside at 3tech. MacDonald will probably fall at the combine a bit but has outstanding length to play 4/5 tech although it may take some time in the weight room for him to develop.