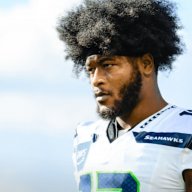 Joined

Sep 4, 2010
Messages

2,364
Reaction score

2,870
Location
In my book (and admittedly maybe more for nostalgic value than actual stats / impact / legacy - Beast Mode is the man) the best RB to ever dawn a Hawks uniform - Curt Warner.
I remember my dad telling me in the early 80s as I'd just become attached to the Seahawks, that if Curt Warner hadn't been plagued by a catastrophic knee injury, he may have challenged the NFL record books in being one of the best there ever was. I was too young to appreciate his college career and can honestly only recall a handful of games where we were all treated to his immense skill (the cinderella game against Miami in 83 included), but as few as those memories are, they are significant for how completely electrifying he made them.
Warner was the 3rd overall pick in the 83 draft behind only John Elway and Eric Dickerson. His college career saw him average almost 12 yards/ carry for Penn State, where he'd receive All American Honors twice.
He continued his success in the NFL, leading the AFC in rushing yards his rookie season. The following year he was lost for the season, due to a torn ACL in the season opener. When he returned, he was still great, but his knee would keep him from realizing a full career. After rockwting back to the top of the AFC in rushing in 86, he declined quickly and was out of the league by 1990. He would be recognized in three probowls in 83, 86 and 87. Warner finished his career as a Ram, in 1990.
The man was simply amazing.
Enjoy: