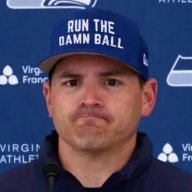 Administrator
Administrator
Moderator
Joined

Feb 23, 2007
Messages

16,907
Reaction score

2,655
Location
Now let me begin by saying I realize there is another thread about the Pro Bowl. I participated in it myself. You can find it here:
I sure hope what I am watching tonight is the beta stage. Seriously lame stuff going on but so far the water balloon series has to be the most stupid thing I've seen in all the pro bowl-related skill challenges in my life.

www.seahawks.net
I just felt after watching the entirety of the 2022/3 Pro Bowl Games tonight I felt I could offer my random musings if you are so inclined to entertain my thoughts.
If so, here we have it:
-- I wonder who the men and women are who sit around and discuss the intricacies and logistics of the new format Pro Bowl and how they come to the conclusion that a water balloon toss would be entertaining and compelling to anyone over the age of 6.
-- Kick Tak Toe hurt my soul. It was That. Bad.
-- In the final WR challenge, I humbly submit my 54-year-old fat ass would have given more effort than Steffon Diggs did. At least Pete Davidson's "69" score was rousing and mildly funny for a few seconds, especially when that big man on ESPN kept saying on air how this was a "family show" or whatever. Over and over. Meanwhile Mr ESPN big man you are buying right into his bit.
-- Here's what I think might be a microcosm of what we saw today. My daughter and I sat down, my daughter says
"Wait,this isn't a regular football game in pads and helmets?"
"Um, no dear. The NFL announced earlier this past season the Pro Bowl would be reimagined and be a flag football game."
Her:
"WAIT!! WHAT?!?!?!"
Sigh. Kids. So I had to spend the first 20 minutes calming her down saying how embarrassing this whole thing was for the league until, until...Wait...
"Ohhhh, that was a cool play...OH! Wow that just happened!??"

--
So we went from skeptical even cynical to thinking, wait, this was entertaining! And it actually was. I loved watching the human nature of the beginning where most players barely jogged, giving a crap, to once the game was on the line ALL of their competitive natures flooded their blood streams in full force. THAT is when it became a valuable experience for viewers. In the end, they compelled me to keep watching and yes Maximus, I WAS entertained!
-- Here's the graphic designer in me part. The uniforms were horrific. Literally garbage. Outside of differentiating between the two conferences using all red and all dark black/blue it was a crap show. First impression? Let the players wear their respective teams helmets! You need to have SOME clear allegiance identifier for fans. Whomever thought the way to go was offering the team logo in some slight silver team logo offering on the left shoulder area was good enough needs to be fired. Give me a break. Talk about tone deaf. Fans want to still connect with their teams even if it's a "fun post season offering". The NFL failed mightily in this department. Design better uniforms that celebrate both the AFC and NFC while retaining the individuality of each participating player's teams. DUH!
-- One of my favorite takeaways was watching the players and coaches so relaxed and smiley in the beginning until stuff got real and the smiles faded and it was all business. What I totally expected and received. I think there is real hope for flag football in the Pro Bowl moving forward.
I never thought I would say that but it's true. Was I entertained?!?
I WAS!