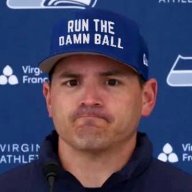 Administrator
Administrator
Moderator
Joined

Feb 23, 2007
Messages

17,710
Reaction score

4,246
Location
This is the first time I have logged on to .NET since last night. I apologize for not reading any threads, I thought I would come in with a clean slate and not be influenced by others takes and comments. Trust me, I will be digesting many of your takes in the next day or two but for now, I am trying to remain neutral to my own take. Having said that, here's my Random Musings.

-- I posted a thread last night with a clear message about being such a sensitive 12. I called Cynthia Frelund out specifically as being this Anti-Seahawk mediot and yet here I am today, eating crow and hating every bite that she was right. Grrrrr.

-- This is the one game so far that has legit shocked me. I had NO DOUBT we would win this game. I think I predicted by 10. I am still beside myself that we lost this game to the 2022 Bucs. Blame travel, blame youth (Yes SoulFishHawk we ARE a YOUNG TEAM), blame reading the press clippings a tad too much, blame it on whatever makes you feel better. Ultimately I blame it on the fact that the Bucs came out better prepared, laser focused, and punched us in the mouth in the first half and we were not prepared for it, period.

-- We lost to 45-freaking-year-old Tom Brady. The same TB who looked like absolute shit all year. What we didn't account for is that he is still Tom MoFo Brady. I should have paid more attention when he was telling the team all week lines like, "This is the type of game you will never forget." Et al. I foolishly forgot that this bastard is a leader of men like few have ever seen.

-- Hat's off to the Bucs game plan. Run, run, run. Our D clearly had their pants down expecting a totally different game plan. They never seemed to adjust which was the most troubling aspect of all. Hats off to the Bucs for shutting OUR running game down, limiting our 3rd down conversions to what? Like 1 for 15 or something stupid? They shut our running game down. Theirs thrived. We had 1 third down conversion to their 10. Game. Over.

-- I feel like such a fool to be lulled into Brady's lair like some smitten kitten. The entire week was one giant circle jerk about the Seahawks and I bought it hook line and sinker. All the while TB12 was ringing his hands together like some twisted, maniacal evil genius who knew the ultimate outcome all along. Christ on a cracker.

-- I wish the Seahawks would have been told before kickoff that they would be facing the 2020 Bucs, not the 2022 Bucs.

-- Trying to find positives besides the fight the Seahawks did show in the final 8 minutes of the 4th Quarter. Let's see...Well, the Huskies beat the Ducks! Sweet. The Cowboys lost to the Packers. Sweet! The Broncos lost and are now 3-6 and Russ still looks like one major, slow, chunky regret to the Broncos Brass! Triple Sweet!! So no, not all was lost this weekend, but damn I sure would have loved if the Chargers beat the 9ers. Oh well. They will likely beat the Cardinals next Sunday meaning we will be tied for first place until we meet the Raiders at home in two weeks which should, ahem, break that tie.

-- I noticed most local media and the players themselves were far from being down and moppy. Sure, they would have loved to have won but there was no hanging heads and suddenly doubting each other. Far from. They all seemed to really love the experience there and feel they will get right back to where they left off after the bye. Hang your heads high 12's. A shit ton of fight in this team and I see them finishing 10-7 which just might win the division or at least snag a wildcard.