In this mock draft I have John and Pete waiting to see how the top-4 picks play out. They lose out on the QBs they were wanting so they trade down to the Raiders #7 overall pick and acquire an additional 2nd round pick this year and next year. Raiders select the last remaining QB, that the Seahawks don't rate as high as some other teams.
1st round #7 (from Raiders) - (OLB/DE) Will McDonald 6'4" 240 lbs. Iowa St:
McDonald is the best pure pass rusher in the draft. Right now his draft projection is all over the place from mid-2nd round to top-10 of the 1st round. For me he is top-10 and if we miss out on a QB then this is the player I want us to target with our number one pick.
1st round #20 - (OG) Peter Skoronski 6'4" 314 lbs. Northwestern:
I know he is being mocked in the high 1st round, but that is as a LT. He only has 32 inch arms and isn't a amazing athlete to be a top-15 pick. I think all teams project him to OG or OC, which is why he falls to us at #20. At #20 Skoro could be the best available player at a Seahawks position of need.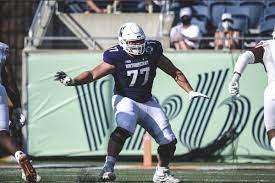 2nd round #37 - (TE) Michael Meyer 6'4" 250 lbs. Notre Dame:
Meyer was really productive in college, but his athletic profile as a TE is average at best. He is not fast, nor quick. He as average size for a TE and short arms for a receiver/TE (below 32 inches). For these reasons I have him falling to the 2nd round, which is a good value and too hard to pass up for the Seahawks.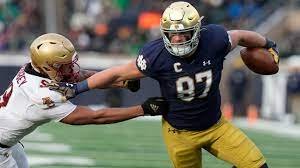 2nd round #38 (from Raiders) - (DE/DT) Karl Brooks 6'4" 305 lbs. Bowling Green:
Brooks has good size, athleticism, and production. He would be an ideal 3-4 DE for us. He is good vs the run and disruptive as a pass rusher.
2nd round #52 - (OC/OG) Cody Mauch 6'5" 302 lbs. North Dakota State:
Cody was one of the top offensive lineman in the agility testing at the combine and he is known to be a scrappy blocker in the running game. Skoronski, Mauch and our 2nd year OTs would give us a elite offensive line for the next 5 years.
3rd round #83 - (CB) Julius Brents 6'3" 198 lbs. Kansas State:
Brents has been a CB we have talked about as a potential Seahawk, and he provided the physical measurables and testing times at the combine to make himself a must have for the Seahawks in round 3 if he is still available.
4th round #123 - (WR) Tank Dell 5'8 165 lbs. Houston:
Dell didn't have the long speed that I was expecting, but he did have a good 10-yard split (1.49). He is undersized, but he has shown amazing quicks and agility. So if he falls out of the 3rd round then he would be a great addition to our WR core.
5th round #153 - (DE/DT) YaYa Diaby 6'3" 275 lbs. Louisville:
YaYa had an elite 10-yard split (1.56) for a pass rusher. He also had an amazing 37 inch vertical jump. He is a long (34 inch arm length) explosive player. Louisville he played DE and kicked in to DT on occasion. For the Seahawks he would be a DE on our 3-4 defense. Big athletic Karl Brooks and underrated YaYa, would give us two young disruptors on our 3-4 defensive line.
Louisville defensive tackle YaYa Diaby was named 3rd-Team All-ACC following a very productive 2022 season. Diaby finished the year with 37.0 tackles, ranked ...
youtu.be
5th round #156 - (RB) Deneric Prince 6'0" 216 lbs. Tulsa:
Prince is a big athletic RB that could provide good young underrated depth behind K-9.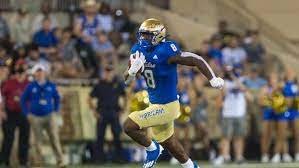 6th round #198 - (NT/DT) Keondre Coburn 6'2" 332 lbs. Texas:
Coburn is a big NT that can provide depth or compete to start at NT.