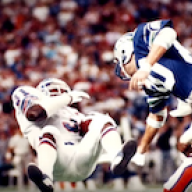 Joined

Nov 6, 2020
Messages

316
Reaction score

306
Location
Well there you have it folks..."The Whitehouse is wrong". That makes your post a conspiracy theorist post.

Did the Whitehouse guess on that one, or use one of those hand held black future 8 ball things?

Nope, they checked the tests with the flu and covid....and they came back and said "Hold up yo, somethings wrong".

So I get the truth doesn't work with your agenda...but you win some and lose some. The covid tests can't tell the difference between the 2.
You got a reference? I searched but didn't find one.
Of course, I was searching for announcements from the White House and I only just noticed that you're writing "Whitehouse." I thought you were talking about the executive branch, but maybe I misinterpreted. Did a senator from Rhode Island make the incorrect assertion that some kind of COVID-19 test can't tell the difference between influenza viruses and SARS-CoV-2?
Unless you can provide a reference, let's chalk this up to bad reading comprehension (willful or not) on the part of those who misinformed you. I did find some social-media posts that misinterpreted what the CDC said last year when pulling the temporary EUA for PCR tests that only test for SARS-CoV-2 because it felt people should simultaneously test for flu, so it recommended multiplexed methods that can detect both. Some people seeing what they wanted to see took that to mean that the old single-virus tests were counting influenza viruses as SARS-CoV-2, but people from the CDC clarified that no, that wasn't happening. There's simply no way it could.
My "agenda" is science, so the truth works great with it! I'm a scientist, and the assertion that the tests (PCR, antigen, antibody - take your pick) can't differentiate between those viruses is just plain scientifically incorrect. There's no way any one of the types of tests I mentioned could make such a mistake. They could produce both false positives or false negatives, but there's no way for them to systematically confuse viruses from different phyla with RNA of different senses and dissimilar antigens. So yeah, if the White House (or Sheldon Whitehouse) said that (and again, I failed to find a reference supporting your claim), then yes, the White House (or Senator Whitehouse) was wrong. But unless you can provide a reference showing the White House (or Senator Whitehouse) actually said that, I'm gonna be pretty sure the White House and Senator Whitehouse did
not
say that.