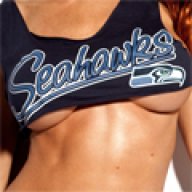 Joined

Apr 18, 2009
Messages

10,231
Reaction score

60
I am a big fan of NFL+ (formerly NFL GamePass in the US). It is a low-cost alternative. Until last year, you could not watch live games, only AFTER it was over. Even with the live option, I still tend to watch games after they're over because of whatever family obligation that always seems to come up on Sundays. You can also watch it after it's over without the commercials, so it's quicker.

Yes, Apple TV has an NFL+ app, but I don't believe that you can watch games live on Apple TV or the computer, just on mobile devices, like smartphones and tablets.

On NFL+, you can watch not only the Seahawks game, but every game. Makes it easy to hate watch the 49ers. (And the Broncos.) My daughter also comes over to watch the Jets game. (Yes, unfortunately she is a Jets fan--she grew up in NY.) I also like the fact that you can go back and watch any game from 2009 to now, regular season or playoffs.
I don't think that's accurate. Pretty sure it's still only after the game that you can watch, not live. I hope I'm wrong tho.