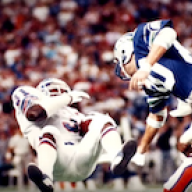 Joined

Nov 6, 2020
Messages

1,632
Reaction score

2,822
Location
I've seen other threads here discussing how to watch Seahawks games, whether it's worth getting Sunday Ticket, whether a YouTube TV subscription is worthwhile, etc.

I kept quiet about the discussions recently because I was unsure whether the way I've followed Seahawks football since 2019, NFL Game Pass, would even continue to exist for the 2023 season, and even if it did, whether the price would change significantly.

In the last few weeks, I logged in to NFL Game Pass a few times, and I could see that NFL Game Pass had been sold to DAZN, and that I could continue my NFL Game Pass subscription via DAZN. However, the whole DAZN web site looks like something some college kids threw together, and when I tried to find information about how much NFL Game Pass was going to cost on DAZN, I got on-screen messages telling me that the site was unable to access my account information, and assured me that the folks at DAZN were working on the problem.
Today I got an e-mail informing me officially of what I'd discovered myself: I can continue my subscription via DAZN. Even though the last time I had tried was last week, I wondered if the e-mail arriving meant that they had fixed the problems and I'd be able to see a price this time. The link from the e-mail was "expired" (probably what really happened is that I had already created a password on DAZN, and the link was for new users to create passwords), but I did manage to log in by just going to dazn.com's initial page and navigating from there. And it turned out I can indeed see my account info. Renewal is set to happen automatically on the first of August, and it's going to cost me R$384.90 for the year, which is a little more than 80 bucks now that the dollar has fallen well below five Brazilian reais. I had paid US$100 for each of the last few seasons, so less than $85 is a pleasant surprise, especially because it says in multiple places in the e-mail I received and in multiple places on the DAZN web site that the price of NFL Game Pass was frozen at the 2022 price. To me it looks like a discount of close to 20% in dollar terms, despite Brazilian currency having gone up significantly against the dollar in the last few months, but I'm not going to complain.

I hope DAZN can maintain the same quality I got from NFL Game Pass from 2019 to the present. I've always gotten great video quality, and in Brazil there have been no games blacked out at all (I read in NFL Game Pass materials that in the U.K., NFL Game Pass did have some games blacked out), so I've been able to watch any NFL game, from preseason through the Super Bowl, live with commercials (it's weird, but the commercials are actually a positive for me, because it makes me feel like I'm at the house where I grew up in Maine watching the games with my mom) or, after a game has ended, I can watch the whole thing without commercials, a 40-minute version, or a ten-minute condensed version. I also get access to NFL Network (I haven't really used that, but it's there if I want it) and NFL Red Zone.

For those outside the USA looking for a good way to watch Seahawks games, I can recommend NFL Game Pass. Check if there are any blackout restrictions in your country. It looks like NFL Game Pass is only available outside the USA (it looks like those who had NFL Game Pass in the USA when it was available there got moved to NFL+ Premium), and it's important for those outside the USA to be aware that for as long as I've been a subscriber, there have been some restrictions on where NFL Game Pass subscribers could be when they watched games. I have been a subscriber since 2019, and I haven't been able to use NFL Game Pass to watch games when I've been in the USA. For example, I was in the USA in October of 2019 and October of 2021, and Game Pass was blocked in the USA. Because part of the NFL Game Pass user agreement said I agreed not use VPNs to fool Game Pass about where I was, and because I didn't want to take any risk of being banned from NFL Game Pass because the service has been so good for me, I don't think I ever tried to access NFL Game Pass through any of the free VPNs I've used. I did try to use VPNs to fool KIRO into thinking I was within 100 miles of the CLink (now Lumen Field), but none of the free VPNs I tried fooled KIRO, so instead of being able to hear Raible call Seahawks games, I had to live with network dip$#!+s like Aikman, (dum)B(f)uck, and the personification of the "senior moment," a.k.a. Dick Stockton.

Because I just did what reads like a commercial for NFL Game Pass, I want to make a point of saying here that I am not affiliated with NFL Game Pass or DAZN in any way other than being subscriber to NFL Game Pass, and I pay for my subscription. I'm just a customer who's been very satisfied with NFL Game Pass in 2019-2023 and hopes to continue to be satisfied with it now that it's under the DAZN umbrella.