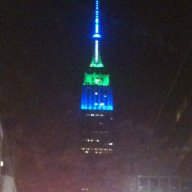 Joined

Aug 16, 2009
Messages

3,906
Reaction score

425
Just thought some of you would get a kick out of a few of my personal experiences i had over the years attending the NFL draft as a Hawks fan. Here are a few.

1990- I used to attend the draft almost every year in NY city as I am a NY'er. My first year going it was at the Marriott Marquis and my friends and I got there around 6:30am. We were 96, 97 and 98th in line. The NFL handed out a sheet to everyone and said to try and predict the first round pics for every team. They said there would be a raffle based on who was most accurate. The winner would receive Superbowl tickets to that years game. I remember when they finally let us in I forgot to hand my selections in and sought out the guy that was collecting them. I also remember when I put mine down it was a little crooked on the pile with the rest of them so it kind of stuck out. I went back to my seat which was literally in the balcony with the team reps below. Directly below me was the Hawks representatives and I kept trying to get there attention to show I was a Hawks fan but they just acknowledged once and that was all. Well right before Dallas selected Emmit Smith the commissioner Paul Tagliabue got up to the mic and said "the winner of the Superbowl ticks is" and said my name and town I was from. I was stunned. I made no movements or sound as I was in shock. My friends were going nuts though. I then somehow got the ability to walk and proceeded to go to the lobby where I met a representative from the NFL and gave them my info and went back to my seat. Upon returning I heard people below me calling in my direction and low and behold it was the Hawk team reps congratulating me. They said you won? I said yeah and were giving me the thumbs up.

1995- So this year and for a few years more the draft was at the Theatre in Madison Garden. The player I wanted most for the hawks to choose was Warren Sapp but in my mind there was zero chance he would last until the Hawks pick at 8. So for those that don't know or remember, low and behold because of marijuana use in college teams ahead of the Hawks are passing on him and he slides to number 8. I was again in shock. I was also thinking that Dennis Erickson the Hawks new coach would want to select him and I was stoked. Well that didn't happen as they selected Joey Galloway. I was now pissed. Right after the pick I was walking probably to go to the bathroom and was stopped by a Seahawk newspaper reporter and asked me my thoughts on the pick. I flat out said it was a terrible pick. Sapp was an awesome player and we pick a small receiver? He took my info down and what do you know, it never made the paper. I was wrong though on Galloway as he was a stud. One last memory of this draft was as teams continued to pass on Sapp he walked by our little section and we were all chanting "Warren, Warren" and he acknowledged but you could see he was upset. As he got far enough away from us and the chanting stopped I yelled out "smoke another doobie" to which everyone laughed. Luckily for me he just kept walking. Yes I was a child at that time.

1996- I was on line waiting to get into the draft and there were a bunch of Jet fans behind me. They were being very loud and doing their stupid J E T S Jets Jets Jets chants much of the time. One of them though was Fireman Ed who really is a fireman and wears a fireman's Jets helmet. He was pretty well known for this and was on tv a lot here in the metro NY area. At one point he looks at me and in front of everyone says "the Seahawks suck". With everyone watching I replied very simply "oh yeah, aren't you picking first in the draft?". He immediately turned away and never said another word to me. You had to be there to get the feel for the moment but at the time it was pretty damn funny.

So those are a few of my stories regarding my draft days as a Hawks fan. Hope you enjoyed them.