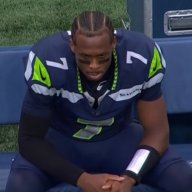 Joined

Jan 28, 2011
Messages

8,753
Reaction score

3,826
Location
This one is really tough, which is why I'm posting it after midnight (my time) less than 18 hours out from the beginning of Round 1.

Everywhere you ask, you get the same answer: "We don't know how this shit is going to turn out."

Ask the executives, you get the same answer: "The media and consensus big boards this year? More off than they've ever been."

So, what's left to lean on? In the absence of reliable consensus rankings (as if they're ever THAT reliable to begin with), we have to rely on gut and knowledge. Knowledge of how each front office thinks, and the potential difference makers available.

This is a big year. This is the first Seahawks native top-10 in 12 years. A franchise icon has been jettisoned, and make no mistake: this is the defining moment of a new era. There are a MILLION different directions they could go here, compounded by the sheer uncertainty of how the top picks around them will turn out. Without further ado, let's take a crack at how it could turn out.
TRADE:
Seattle
trades 9 and 72 overall, plus a 2023 Fifth Rounder, to the
Giants
for 7 and 112 overall.
Round 1, Pick 7: Evan Neal, OT, Alabama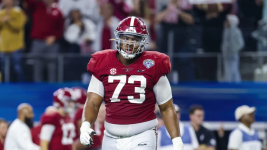 There it is.

This is what I've decided to propose as a possibility that I see as more likely than most would think. I have the first 3 picks of the draft swinging defensive in Walker, Hutch, and Sauce/Kayvon/Stingley at 3. The Jets at 4 are either going Jermaine Johnson or Ikem Ekwonu. The Giants go with Kayvon at five and Cross goes to Carolina at 6, as they're rumored to be enamored with him.

So, Neal is here, and he's the third tackle off the board. The Giants would like to take him, but will also have suitors for the pick who want to jump Atlanta for Jameson/their choice of receiver. So, a slight overpay is required. But it's warranted.

Let's take a trip down memory lane. The year is 2010. An upstart front office is churning the shit out of their new roster and building a future. Where do they start? The blindside. Okung is their first pick, and their LAST top-10 pick for over a decade.

This front office, for better or worse, tends to fall into patterns, and they've left the spot WIDE open. Brown is on standby, sure, but this is the start of a new era, and they know it. They want to secure a cornerstone, and they pull the trigger on one here. The position falls off a cliff afterwards. Neal also fits their profile for tackles - tall, rangy, imposing.

It's bold, but it just might work. It's unlikely, but it just might happen.
Round 2, Pick 40: Perrion Winfrey, DL, Oklahoma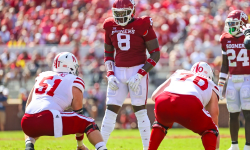 Two selections, and the team has already gotten bigger.
Winfrey is interesting, isn't he? He's a unique player, with a unique profile. He's even got a unique gait and build - upright, yet looks almost hunchbacked. Slender, but
big.
Long, but with pass rush juice. In a new, even more hybrid front, a player with Winfrey's upside, size, and versatility could end up shining bright. He just looks like a Seahawk.
Give Hurtt a guy to play around with. Some talent on his baby, the DL.
TRADE:
Seattle
trades 41, 112 overall to
Green Bay
for 53, 92, 171 overall and a 2023 Fourth Rounder
Round 2, Pick 53: Marcus Jones, CB, Houston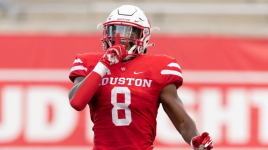 This is probably a lil bit of a reach, but Seattle secures an energetic player at a position they hedged with a one-year contract to Justin Coleman here. That's not his main benefit in year 1, though!
Jones is an elite return man. ELITE. He returned a whopping 9 kicks/punts for touchdowns in college, where he played for Troy prior to transferring to Houston. He hits daylight hard and without remorse.

As a corner, he's undersized, at 5'8" - but a fantastic nickel prospect who notched 10 interceptions in college. An attack dog with a nose for the ball. This pick is similar to that for Lockett, where his main benefit was his return prowess. They need a returner again, and they value explosion on special teams. I don't need to tell you that they value turnovers. They get a spark plug here in Jones.
Round 3, Pick 92: Darrian Beavers, LB, Cincinnati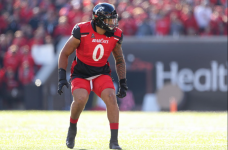 Narrowly missing out on Channing Tindall, and without much of an opportunity to trade up without sacrificing pick quantity to fill out the class, Seattle goes for a player they've been linked to and had in for a visit - Darrian Beavers, out of Cincinnati. Beavers is a versatile linebacker who has a legitimate chance to be a plus inside linebacker, but can also handle a SAM-like role and set a decent edge. He plays well downhill and is a plus tackler. He has a 97th percentile wingspan despite having just above average arm length - long, rangy, and with a nose for the ball carrier. He looks the part.

He figures to come in and compete for snaps right away, likely settling for backup duty in year 1.
Round 4, Pick 109: Luke Fortner, C, Kentucky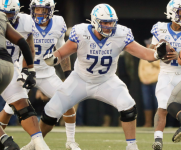 I don't actually have all that much to say about Fortner. This is the right range for him, and Seattle would probably like to add to the competition there between a 1 year hedge in Blythe, and backups in Fuller and Shepley. He's a solid, but unspectacular, prospect at center. He's got a decent anchor, decent agility, good arm length, and middling athleticism. Plays with smarts. He's a leader. He also could likely move to guard, so there is some flexibility there.
Round 5, Pick 152: Michael Clemons, Edge, Texas A&M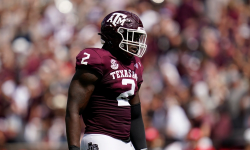 Michael Clemons is a steal. For a reason - there are some character and durability concerns, but the upside is enticing. He's got long, lean arms and legitimate explosion, with decent production as well. Seattle's been linked to him. At this juncture, there isn't much to lose, but there's a ton to gain.
Round 5, Pick 153: Danny Gray, WR, SMU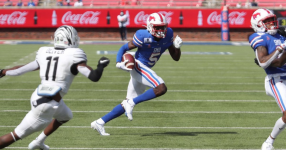 I actually doubt that this pick will happen. Gray deserves to go higher. His gamebreaking 4.33 speed and starpower skipping gait pop off the screen. He oozes talent and upside. A potential monster on crossing routes with nutso YAC upside, who Seattle brought in for a top-30 visit. The position still needs some talent, with Eskridge being uncertain, Swain being mediocre, and Lockett getting older. Gray has the potential to set the field ablaze and be the best friend of the bridge quarterback who wins the competition to start in 2022.
Round 5, Pick 171: Cade York, K, LSU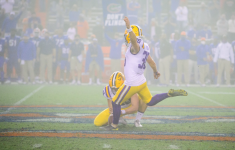 Cade York actually hit this field goal.
57 yards. In a dense fog. 27 seconds left on the clock in a tied, 34-34 game @ Florida. He nailed it.
Seattle's shown interest, and Cade's shown balls. He's the guy.
Round 7, Pick 229: Samori Toure, WR, Nebraska
Samori has garnered a LOT of interest from various teams, and was also a top-30 visit to Seattle. He's a crafty route runner with a full tree, significant FCS production and a decent season at Nebraska. He's got pretty sure hands and blocks very willingly, likely indicating additional special teams upside. Seattle decides to skip the priority FA route, and add him here to close out the first class of a new era in Seattle.




So, lots to unpack. None of this will come true, surely. The draft is too unpredictable... too fickle. But, this is how it COULD go down. We'll see how it shakes out in... like, 15 hours, now that I'm finally done writing my yearly amateur mock.

Until next year.