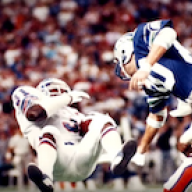 Joined

Nov 6, 2020
Messages

326
Reaction score

321
Location
TypeSly":2n1gqkri said:

hi Lagartixa, and welcome to the forum! :irishdrinkers:
Thanks!
TypeSly":2n1gqkri said:

Just curious, what made you choose the Seahawks to be your favorite team?
I'm pretty sure it was the uniforms.
I have no idea why even part of a preseason game involving an expansion team from all the way across the continent would have been on TV in Maine in 1976, because I've checked that year's preseason schedule, and the Seahawks didn't play the Patriots. It might have just been highlights, and I can't ask my dad because he's been gone since late April of 2011. But for whatever reason, they were on TV. I asked my dad who that team was, and he told me. And I decided it was my team. Dad thought it was pretty cool that I had my own favorite team.
That was my first season really following the NFL, and not just catching a few minutes of a game when my dad was watching. I didn't get to see much of the Seahawks that season, other than highlights on the sports segments of news shows (and not even much of that), but my dad kept me up-to-date on what was going on with them. I remember him telling me that two wins was pretty good for an expansion team.
The crazy thing to me, considering that I didn't have any Seahawks gear yet, is that word spread really quickly that I liked the Seahawks. When the Seahawks played the Bills in 1977, that game wasn't on TV. I wasn't interested in the game my dad was watching, so I was outside playing. But as updates on the Seahawks game appeared on the game my dad was watching, he would come outside and tell me. And he did that a lot, because the 'Hawks were kicking a lot of ass. The score got as good as 49-3, and after garbage time, the final score was 56-17.
At some point, other kids from the neighborhood came over to make sure I knew what was happening. That wasn't unexpected, because we played a lot of neighborhood football and talked about football a lot, so the kids on my street knew I liked the Seahawks. But the next day was crazy.
Starting at the bus stop in the morning, then on the bus on the way to school, kids were coming up to me to talk about the game. That continued all day -- on the playground before the first bell, in the classroom, in the hallways and bathroom, in the lunch room, on the playground again at recess, in gym class, and on the bus on the way home. The main topic of most of my conversations that day was the Seahawks having crushed the Bills, and that's extra-surprising because that day was Halloween, which you'd expect to be the main topic of discussion among third graders. I'm not sure how it happened so quickly, but I was already known as the town Seahawks fan.
I let peer pressure affect me in so many ways as a kid and especially as an adolescent, but I never let it affect my choice of a football team. I wore Seahawks gear and it never bothered me that nobody else did.