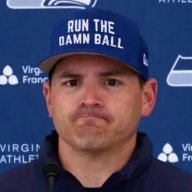 Joined

Feb 23, 2007
Messages

16,279
Reaction score

1,737
Location
Because I think you will need to be this year. Seriously. And yet, many of you already are.
I don't read every thread and every post but I try to cover the general spectrum and what I have been hearing is that many of you are already there. In fact, I can't recall in all my time here on .NET whether it was being owner, admin, mod or the decrepit "Godfather" pushed back into the dark corner of a deliciously seedy pub (of my choosing) that I ever remember so many fans being "chill" with a rebuild.
Oh yes, there are plenty still ready to send fists to fury over decisions made, poor performances, tackle technique resembling middle schoolers...Trust me, I get it. However the vast majority seems oddly cerebral this season. Rising above the usual noisy negativists which again, with all my years here, is wonderfully impressive.
So many years in the past fans battled each other over what kind of team we had. This year? It seems fairly obvious, as though we are cheating on some kind of test. I don't know who coined the term but one of us said that Geno was a "Bridge Quarterback". Wow, not only an astute term but a marketable one. And a true one.
Already there are rumblings to Unlock Lock. (Okay dammit, I admit that was my clumsy attempt to counter the Russ Cook mantra).
Word on the street it could come as soon as the second half of the game this Sunday against the Falcons. Who knows?
No matter what transpires this Sunday and the 14 game days beyond that, continue that Zen Mentality. What shall be shall be. Rookies are being thrown into the fire. Let them feel it. Grow from it. Find the way out of the cauldron to no longer be burned. Let DK throw his tantrums, and he will. Where's he going? He just signed a huge contract.
I have always felt deep in my heart that PC and JS have always had a plan, no matter how this season looks when it is all said and done. No matter the soundbytes, no matter the disingenuous pressers to the contrary.
They want their franchise quarterback. This season is nothing more than a preseason of 17 games to prepare their squad for better days in 2023.
Zen.