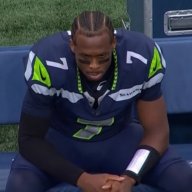 Joined

Jan 28, 2011
Messages

7,590
Reaction score

1,552
Location
Looking forward to draft season. Seattle is in a good position to add a few pieces to push them further towards having a legitimate championship roster. Currently, they're 10-3 and outperforming their level of talent on paper, as is typical of Pete Carroll teams. However, the point differential is really close - tons of nailbiter games.
Carroll and Schneider are likely going to have a late first, as well as 2 late seconds to play around with. Here's how I think they use them. Draft position estimates are based off the list here:
https://www.draftsite.com/nfl/seattle/38/
TRADE: Round 1, Pick 30 traded to Lions for 37, 112, 176.
Round 2, Pick 37 (from Detroit):
Mekhi Becton, OT, Louisville.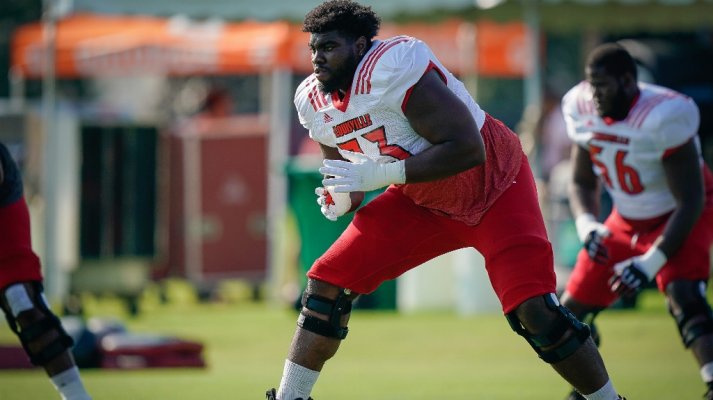 Let me start by saying that if Becton lasts until 37, it'll be because someone like Alex Leatherwood declared and was taken ahead of Becton.
Becton is a monster of a man - 6'7", 369. Long 'n' strong. He's playing left tackle for the Cardinals, but here he's slotting in at right tackle to replace Ifedi, who leaves in free agency. Becton is strong, tough, and for the most part he's reliable, only missing a few games due to injury. He comes off as a good guy in interviews. He's improved from 2018. He keeps a decent amount of agility for a man of his size. He seems to struggle with stunts, but he can be coached out of that.
I expect Seattle to go tackle with their first pick. They've never been shy about investing in the offensive line, and Becton fits with the identity of the team. If he ends up lasting until the top of the second, pull the trigger and call it a day. Let him duke it out with Jamarco for RT.
Round 2, Pick 58:
Kenny Willekes, Edge, Michigan State
Exorcising the demons from the last time they picked a Spartan defensive lineman... we go with the anti-McDowell, Kenny Willekes. A guy who went from walk-on, to one of the more productive defenders in the country. He just won the Burlsworth Trophy as the nation's top walk-on player. He was the 2018 Big 10 DL of the Year. He's all over the place draft stock wise... not a top-100 prospect according to CBS. I suspect he will rise.
He's not the most athletic player - but he's going to test better than Collier did. His motor is high-revving, and he plays at redline. Does not give up. Not a huge liability in the run game, effort doesn't dip on run plays, plays with discipline. I suspect his pressure numbers (specifically the pressure rate stat that PC/JS seem to put significant stock in to) will look good, in most part due to his motor. Footwork is clean, pass rush moves are just adequate and he would benefit by adding some nuance to his moves as they can be somewhat predictable. In college, a lot of his wins come when he's unblocked. He's solid, though. A leader.
Round 2, Pick 62:
Logan Stenberg, OG, Kentucky
Another lineman, yeah. Iupati is gone after this year, Britt and Fluker are strong cut candidates, Ifedi is almost certainly gone in free agency. Realistically, the line could lose every starter that isn't Duane Brown. This is going to be a need.
Stenberg is NASTY. Not "bad human being" nasty - he's likely going to interview well, and he's a guy who loves football, but this guy plays with a crazy mean streak. He lives solely to pancake, he drives guys into the ground, he plays with strength - he's a straight up mean sonuvabitch on the gridiron. If you give him a shot, he comes away with one of the starting guard spots I bet.
If there is a worry, it's that he has a high change to draw a few more holding/unnecessary roughness calls than average. But I bet he pisses opposing defenders off enough to draw a few calls himself to even it out.
He came into the season a UDFA, he's rising, will probably end up day 2 with an outside shot to skyrocket into day 1. I absolutely love this dude, and heavy investment on the line will be needed. Becton and Stenberg together in the same draft haul would be amazing. Seriously, watch his tape, it's fun stuff.
Round 3, Pick 103 (Compensatory):
Najee Harris, RB, Alabama
Note: Najee is returning to Alabama for the 2020 season, no longer eligible for selection.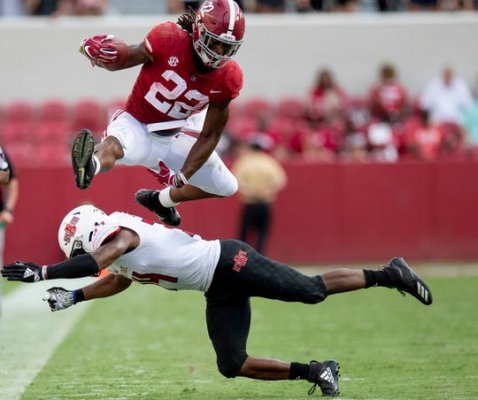 Don't get me wrong, I think Pete Carroll loves Chris Carson.
I also think he'd love Najee Harris.
We've seen before that the Seahawks will hedge their bet at running back with draft capital - they loved Carson, but still selected Penny in the 1st round. Penny, despite not being the main workhorse, has missed a fair amount of time and is now out for the remainder of the season. Carroll views rushing as sort of the heart and soul of the team. I'm sure he's really wishing he had another back right now.
Harris doesn't fumble often. He's productive. He has upside in the passing game, and bear in mind Schottenheimer has mentioned he wants to target rushers more in the pass game. Najee has a mean stiff arm and hurdle - kinda like Carson. Big guy who can rush with power, has a serviceable juke move, and can hit a hole with conviction. Harris seems like a guy who'd fit right in.
Round 4, Pick 112 (From Detroit):
Lavert Hill, CB, Michigan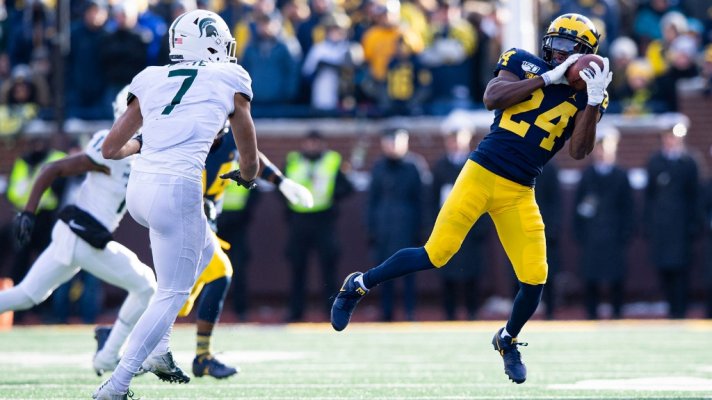 Yes, this is Lano's brother. Lavert is smaller than Lano, and projects as a nickel/slot corner in the NFL. He's speedy, has decent ball skills, and has the connection with Lano. I'm worried that he gets a bit too handsy and may draw some flags, but otherwise I think he has potential to be one of the better nickel corners in the league and think Seattle may specifically target a smaller corner for the role to replicate the success they had with Justin Coleman. He'll probably compete with Amadi, who likely has a roster spot regardless due to his versatility and special teams play.
TRADE: Seattle trades up to 113, giving up 136, 162, and 249.
Round 4: Pick 113:
Tyler Johnson, WR, Minnesota
I've got Tyler Johnson falling here due to underwhelming testing. He's a guy who can get open and make some really nice catches. Doesn't miss much due to injury. Team player, smart kid who stayed in school to get his degree. Biggest knock is that he doesn't have elite speed. If he falls, I think he's a player worth trading up for.
Round 4, Pick 145 (Compensatory):
Willie Gay Jr., LB, Mississippi State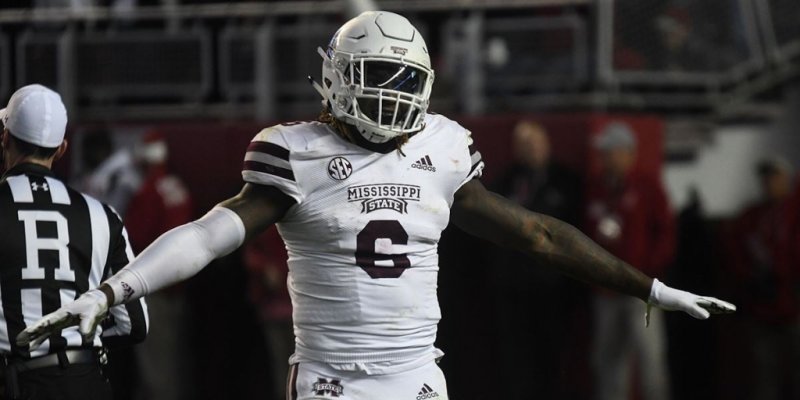 Willie has a character red flag - he was suspended for violating team rules this earlier this season. However, he is respected by his teammates and brings energy to his defense. He has speed and some playmaking ability, but needs to work on taking better angles to ballcarriers. He grades out fantastically in coverage, so if Pete continues to have such a boner for base defense, his zone prowess will come in handy. If he interviews well and the suspension was more of a one time mistake than an indicator of persistent irresponsibility, he will probably rise higher than this. If he does have some maturity issues, he's worth the risk and will be going to a solid locker room in Seattle. Son of former Steeler CB William Gay.
This is a fun draft class.
EDIT: Kinda screwed up the images. Work in progress re-editing the post.