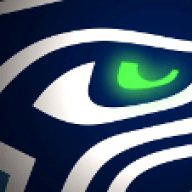 Joined

Oct 18, 2014
Messages

1,691
Reaction score

7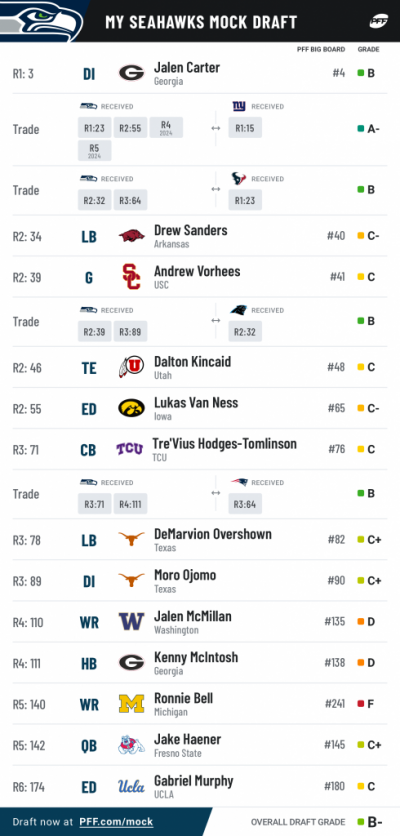 pick 1:
Jalen Carter,
DL, Georgia - I want a game wrecker in the middle on D. I think it's what this team needs the most. Carter fits the bill
pick 2:
Drew Sanders
, LB, Arkansas - I traded back a couple of times because I'm just not jazzed about the talent in the latter part of the 1st and early part of the 2nd rounds. Drew Sanders seems like a rangy sideline-to-sideline back in the mold of Leighton Vander Esch. He can play any LB position, including Mike and Edge rusher. I haven't been happy with Brooks or Barton in the Middle.
pick 3:
Andrew Vorhees
, G, USC - We need some help on the interior of the Offensive Line. I love our Tackles, and I think Damien Lewis has shown previously that he can be good. Vorhees looks like someone who can move the pile on one play and hold his own in pass protection on the next.
pick 4:
Dalton Kincaid
, TE, Utah - I traded back again, accumulating picks and still getting an incredibly smoothe, pass-catching TE. The new Seahawks O has a lot of focus on TE. I like Fant and Dissly, but injuries seem to plague this position. Kincaid would be a great weapon for Geno.
pick 5:
Lukas Van Ness
, DE, Iowa - I wanted more talent on the edge, but wasn't enthused about many options in earlier rounds. Van Ness played on a dominant Iowa D and had 18 solo tackles and 6 sacks, which was second on the team. He has great size at 6'5 270. It seems like a lot of other edge rushers in the draft are smaller. I'm favoring us getting someone with a bigger body presence.
pick 6:
Tre'vious Hodges-Tomlinson
, CB, TCU - sounds very much like a Tre Brown type of player. Small but athletic. I have loved seeing Tre Brown when he's been healthy. I know prototypical Seahawks Corners are longer, but Brown has shown that different types of corners can thrive with us.
pick 7:
DeMarvion Overshown
, LB, Texas - moved back again but got the guy I wanted. Another rangy Linebacker who started out as a safety, giving him some really cool versatility and ability to be a 3 down player. As I mentioned previously, I've been unhappy with our current LBers. This guy should be a great addition to this group.
pick 8:
Moro Ojomo
, DT, Texas - I wanted to focus on improving the D. It desperately needs an infusion of talent. I took another Texas defender in Ojomo. He's not big enough to play NT but he's explosive enough to be part of a rush package in place of guys like Al Woods.
pick 9:
Jalen McMillan
, WR, UW - I watched Jalen all season as part of UW's high flying attack and he was probably my favorite receiver of the talented bunch that the Huskies had. That group can always use some depth. PFF thinks I took him too early, but oh, well.
pick 10:
Kenny McIntosh
, RB, Georgia - the latest in a long line of good Georgia backs. He doesn't have the size that some other backs do, but is a nice combo of size and explosiveness and is a hard back to bring down. With all the injuries that the Seahawks RB Room experiences, I'd like to add some talent and McIntosh seems like a nice fit.
pick 11:
Ronnie Bell
, WR, Michigan - Another WR that PFF thinks I took way too early. I've seen Bell play, though, and he's got great athleticism and can return kicks.
pick 12:
Jake Haener
, QB, Fresno St - Haener flourished with Kalen DeBoer at Fresno, and DeBoer tried to get Haener to come back to UW with him but the NCAA wouldn't allow it. Why not take a chance with a 5th rd pick and see what he can do. Geno is great and I like Drew Lock as well, but it never hurts to see if we can find someone to groom as a potential successor if Drew is not the one. I really don't see this as an urgent need, though, given that Geno has played well and Drew's talent.
pick 13:
Gabriel Murphy
, DE, UCLA - Just looking for additional possibilities to bolster the D along the line.