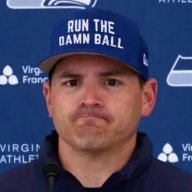 Administrator
Administrator
Moderator
Joined

Feb 23, 2007
Messages

16,895
Reaction score

2,643
Location
From The Athletic this morning...
The measurables were bad enough: Russell Wilson, a nine-time Pro Bowler, crumbled in his first year outside Seattle. A 5-12 record and frankly horrendous play made what many thought would be a good team into a laughingstock. And there was the $245 million contract on top of it.
Somehow, it was worse than that, according to
a bombshell report
this morning from Kalyn Kahler, Jayson Jenks and Mike Sando, who talked to more than 15 players, coaches and staffers for the story. The juicy details are eye-popping:
Before the trade, Wilson asked Seahawks ownership to fire head coach Pete Carroll and general manager John Schneider. The quarterback was convinced those two were hamstringing his chances for success. He even had a preferred coach in mind: Sean Payton. Days later, Seattle dealt Wilson to Denver.


There, Wilson installed his own support staff alongside Broncos personnel. Wilson had his own office too, which blurred the line between coach and player — in a bad way. Wilson even brought his own quarterback coach, Jake Heaps. Who was Wilson listening to? Heaps? Or Nathaniel Hackett, the head coach known for coaching QBs? And what about actual Broncos quarterbacks coach Klint Kubiak? It sounds like a disaster.


Wilson even asked offensive players to come into the facility on Tuesdays — the only day players have off during game weeks — for "state of the union" meetings, which usually included film sessions. Wilson and Heaps ran these meetings. Some players said they were helpful, while others thought they were weird.
Wilson did get his wish in one sense: Payton is the new Broncos head coach, and has already said Heaps and other Wilson staffers won't have a significant presence inside the facility.