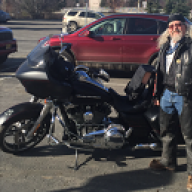 Joined

Mar 3, 2007
Messages

22,908
Reaction score

1,529
Location
But first, a word from our local gripe artist/grumpy old man :les:

Listened to Salk yesterday. He's out of practice, but it takes some real stones to do 6am to 10 by yourself. He has guests, which are pretty good, but we'll see.
Because I'm a Seahawks fan, I hope he succeeds. Otherwise, I'd be ambivalent towards his show. One thing of interest, he's toned it down a little which is not good, and will be the reason ESPN dies a long, slow, miserable death. He said he has apologized for things he's said in the past, and if he misspeaks in the future, has no problem apologizing for it.
This is ESPN speaking, and it's absolutely ridiculous! Part of Salk's appeal , and the appeal of any good radio host, is their ability to say borderline outrageous things to spark interest and conversation. ESPN is basically neutering their broadcasters and making radio unlistenable. (It's not a word, and I don't care).
A few years ago John Clayton told a story about a player hanging out in the locker room, and "he talked with a cigarette hanging out of his mouth." The next day ESPN forced him to apologize on air for it. Pathetic. I'll bet they sell advertising to Vape distributors...but that's what ESPN has become. Unlistenable.
I try their radio station once in a while, for a couple of minutes, and it's impossible. 65% of their on air time is commercials, and the other 35% is filled with "And we've got so and so on the Vape Hot Take Hotline" so that every sentence carries an advertisers name.
And I'm sure that each guest is briefed beforehand of what they can, and cannot say. It's the most unlistenable audio in the world. But that schiot show is run by punks in suits that have no idea what sports fanatics are, or what it is they want.
ESPN, or "The Mothership" as their analysts like to call it, is going to die one of those too-long, extreme slo-mo crashes in to some desolate dirt strip, on a deserted island somewhere, where the only inhabitant refuses to listen to them.
ESPN = Big Brother :death2: Note: If i were an employee, they'd fire me for using the machine gun icon. :141847_bnono:
WYMAN AND BOB -- Hour 1 - Duane Brown returns + El Hombre
Dave and Bob discuss what Duane Brown's updated contract and return to practice mean for the Seahawks offense as they head into the regular season opener.
El Hombre also joins to share his perspective on the opening weekend of the college football season and the stretch run for MLB
https://sports.mynorthwest.com/category ... an+and+Bob
WYMAN AND BOB -- Hour 2 - Mark Schlereth & Mike Blowers
Mark Schlereth joins Dave and Bob for the first of what will be a weekly appearance throughout football season.
Schlereth describes the origin of his nickname "Stink" and weighs in on how the NFC West will shake out this year.
Mike Blowers also drops by to discuss Yusei Kikuchi's struggles against the Astros and his prediction for what the Mariners have to do in order to make the playoffs.
https://sports.mynorthwest.com/category ... an+and+Bob