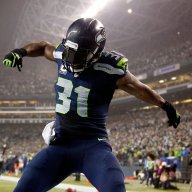 Joined

Dec 18, 2013
Messages

3,794
Reaction score

1,117
Location
There's also a lot of home fans that are going to have to make some major adjustments to their schedules in order to attend a game, too. Going from a weekend to midweek game is very likely going to require a person living within a 100 mile radius of the stadium to take at least a half day off, perhaps as many as two days off for those living outside a 150 mile radius. There's a number of season ticket holders that live in eastern Washington along with large contingents of Oregon and British Columbia fans.

The Packers are one the 8 teams that voted against the flexing of TNF. Two things are significant about their objection: They are the only team that is owned by the fans and being that they are the smallest market in the league, more of their fans have to drive longer distances than other fan bases. I once went to a Hawks-Packers game at Lambeau and met some Packer fans that lived in South Dakota.
It's 521 miles each way for this new Seahawks STH. I have a friend in Great Falls who is a long time STH. 640 miles each way for him.
We mostly fly for the games, so we are at the whim of the flight schedules and how full the planes are. Afternoon games are awesome because we can fly in, catch the game, eat dinner, and fly home.
Thursday nights are a challenge. Flex Thursday nights sound like a nightmare.
But the NFL doesn't really care about STHs. It's all about the broadcast revenue stream.