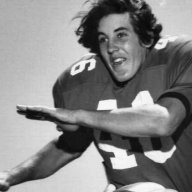 Joined

Aug 15, 2016
Messages

46
Reaction score

24
The 2019 Seahawks defense sucks! But wait, didn't it carry the team to several late season victories!? Can both be true?
I am still trying to get my head around this defense because there are a lot of moving parts and some weirdly inconsistent results week to week. Get ready for some TL/DR....
DEFNSIVE LINE: To me issue #1 has been the defensive line. Carroll seems to think as much too, based on sporadic comments he's made to the press. Many end of season stats now peg the Seahawks DL as #30-#32 in pressure rate, hit rate and sack rate (ESPN's pass rush win rate within 2.5 seconds is an interesting exception, with SEA at #16). To compensate, the Seahawks have blitzed more than they traditionally like to and it has largely paid off: last I checked ESPN had the Seahawks with the #8T blitz rate and #4 blitz effectiveness measured by opponent passer rating. This was only possible, despite fan outrage, by keeping their best blitzer Mychal Kendricks on the field on many obvious passing downs, and he ended the year with the top pass rush productivity of any player on the team.
SECONDARY: Of course we know pass pressure is related to coverage too, and safety play has been a huge issue as well this year. At least until Quandre Diggs arrived. The incredulous 7 sack performance yesterday was clearly a product in part of coverage. Josh McCown's Time to Sack was a high 4.72 seconds and Time to Throw a high 3.32 seconds according to PFF. For Wentz: it was 4.40 seconds and 3.84 seconds. Many have wondered if Diggs is the new straw that stirs the drink, but can we measure some of this difference he makes?
Recently I have come across some pretty impressive statistical splits showing defensive performance with and without Diggs on the field (sorry if these have been posted already). Obviously you have to use some caution with these numbers because of the small sample size and the fact that opponent strength is not always factored in. But the most impressive stat to me, if I am reading it correctly, is one that DOES factor opponent strength in: Football Outsider's often quoted DVOA. According to their splits, with Diggs on the field, Seattle's Pass Defense DVOA number would have trended #5 in the league, versus #24 without. Their overall Defense DVOA number would have trended #7 with Diggs, #27 without. The DVOA splits are cited in this playoffs preview:
https://www.footballoutsiders.com/game-previews/2020/nfc-wild-card-playoff-preview-2020
Some more splits were collected by Brady Henderson here:
To lend further support for Diggs' coverage impact, PFF's objective coverage metrics for Diggs are outstanding.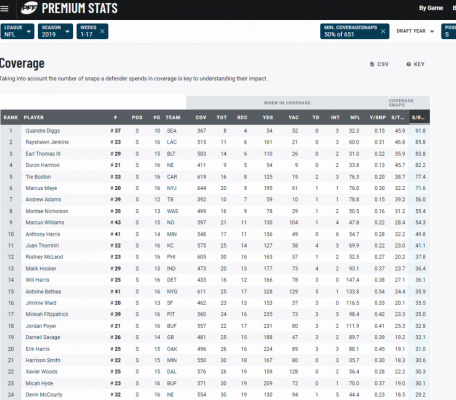 Decoding some of these acronyms: Diggs ranked #1 among all safeties in Coverage Snaps per Reception (PFF's preferred metric), #2 in Snaps per Target, #2 in Yards per Coverage Snap (my own preferred stat), and #3 in Opponent Passer Rating (#1 in this category was his safety doppelganger Earl Thomas). For some historical perspective, I went back and looked at these same stats for previous years. In a similar scheme, Diggs in 2019 put up better coverage stats than Earl Thomas did in any year he played in Seattle, and he outperformed Thomas this year as well in all but the one metric.
By the way, I am in no way suggesting Diggs is a better free safety than Thomas.
Numbers are worth only so much, but impresive numbers these are!
QUESTIONS: Can Diggs really be THAT much of a difference maker? Is there a correlation between the 'Diggs effect' on coverage and higher-than-usual performance of this defensive line in earlier games (first 49er game? last PHI game)? Are there any coverage scheme watchers out there that are seeing different schemes with Diggs on the field that might also account for improved pass pressure and other positive effects? It has certainly been my impression that coverages have been more aggressive when Diggs has been the Eraser. I would love to know if this true. There are really interesting numbers in this masterful summary of playoff team tendencies below, but no breakdown for Diggs games:
https://ftw.usatoday.com/2020/01/seattle-seahawks-nfl-playoffs-strategy-analysis
From this article, the Seawhawks have used single high safety at 64% for the year, up there with many teams, but how much of that usage was during the ~5 Diggs games? They used some single high without Diggs but it didn't always work so well and my sense was they didn't use it as much then. What seems more out of character is the very low use of man to man coverage (18%). In 2017 with Thomas, they used man coverage ~40%+ of the time, on the higher end of the league. Is this discrepancy between 40% man coverage in 2017 versus 18% in 2019 because they only had a reliable single high safety for 5 games this year, or due to varying Defensive Coordinator tendencies? Any other thoughts? Diggs may be the real steal of the year and I suspect has locked down the free safety role at a comfortable $5m/year through 2021.