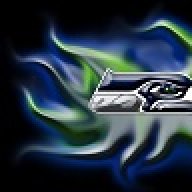 Joined

Dec 19, 2018
Messages

6,651
Reaction score

137
HD48":n4mgk1ya said:

As usual, two things can be true but ppl tend to forget that when they care more about being right than anything else.
So with that being said, Pete needs to go and so does Russ.

Some guys on here asking for 'proof' of Pete not letting Waldron call plays because they know thats obviously impossible to do so in their minds that argument is 'won'. How about plausibility and/or common sense - heard of that?
When a team/organization plays the same basic offensive (and defensive)scheme throughout changing OCs/DCs then I can go look for the common denominator and thats the HC who btw has the last word on anything especially here in Seattle. PC runs the show around here and ultimately he wants his brand of football tb played no matter who's the Coordinator. I dont feel like that is or should be news or even debatable.
When you as a HC get to a point where in a presser you basically confirm having come to your wit's end, you're done and it absolutely should be his last season.

As for Russ. He has never in his life played in offensive schemes like Brady, Brees or now Stafford in LA.
With regards to the lack of sophistication in the scheme Russ has been exposed to, Chris Simms said 'he doesn't even know what he doesn't know' and 'all he knows is the way they do it, just don't turn the ball over and the defense will do the rest'. He also added 'you see him missing open receivers in the middle of the field because he's too stuck in thinking about not forcing turnovers rather than making plays and just letting it rip'
That pretty much summed it all up + the fact that he def has lost a step or two, he doesnt seem to be escaping as much, there are almost none of his runs anymore and the more he has to play from the pocket, the more we see him struggling and honestly at times being exposed. The worse he gets with his feet/legs the more I believe that he's not close to being as good as a Rodgers or Brady. I guess after this season it'll be in both sides best interest to part ways.
I hear SImss and agreed with most of what he said except the running part last year he has over 500 yards and prior to injury over 100. and before the injury, he made several Russ-type runs and scrambles. That said and as many have said the PC style of play is imprinted all over the offense and has hurt Wilson's development a lot. DO I think it is too late. now you can tell by the first half to eh first game before PC took over again. The problem is it will not be with PC as a coach as PC will never allow the offense to stray for too long or to far from what he wants.